by Chandler Harris
While location-based services have been around for some time, it wasn't until the iPhone came along that LBS became not only a buzzword, but a business concept enabling start-ups to accumulate users and funding. Google and Facebook have followed the lead of companies like Foursquare, Booyah and Buzzd to create mobile LBS presences that are quickly gaining traction as popular tools.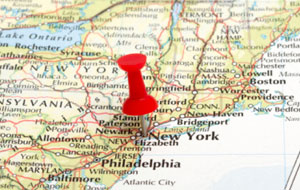 The sector is based on a conflux of GIS, mobile technology and social networking referred to as "the
intersection of cyberspace and the real world" by Buzzd. The number of LBS installations on smartphones is projected to rise to 81 million in 2010, a whopping increase from 8 million in 2009, according to
iSuppli Corp.
By 2014 that number is expected to increase to 297 million. LBS revenues are projected to hit $912 million this year and $2.8 billion in 2015, according to researcher
Frost and Sullivan
.
LBS = Jobs
Opportunities in LBS are growing for tech professionals experienced with mobile platforms, software engineering and mapping technologies.
Frost and Sullivan divides LBS into two categories: consumer and business. Consumer LBS include information (

navigation/mapping), security (children finders), social networking (friend finders, local discovery and "check in" gaming) and entertainment (location-based games). Business solutions are segmented into mobile workforce management or mobile asset management services that use GPS and wireless to locate, track, and manage mobile workers, their tasks, and/or mobile assets like vehicles.
"Clearly, it's a growing market being driven by a number of factors including easy
availability via smartphone application storefronts offering thousands of different LBS solutions, powerful technology and the transition from monthly subscriptions to free or one-time-fee pricing," the company says.
On the consumer side, the
latest LBS
fad is "check-in" mobile phone sites that companies like Foursquare,
Brightkite
, Buzzd and Booyah are building businesses around. Brightkite allows users to check in at a location and discover what members of a social network are present, who was there previously and what's happened there recently. The company has 20 employees and expects to hire five more this year.
Buzzd aggregates data from popular sites such as Twitter, Foursquare and Gowalla to reveal the most popular venues in a city at a particular time. The company has 12 employees but is growing rapidly and looking for engineers skilled in location-based searches and managing large volumes of data.
"The three buzzwords are mobile, social and location, and the companies that combine them the best will win," says Glen Straub, director of partnership marketing at Buzzd.
Booyah's "MyTown" is a social networking game for mobile phones that has about 2.5 million users. The company, which was founded in August 2008, currently has 35 employees and expects to hire 10 more by year's end, including a lead game designer, Android engineer, business development manager, server engineer, website developer, QA engineer, Flash developer, Flash designer, UI artist and game artist.
Business Applications, Too
On the business side, ESRI has a long history of providing GIS services and sees the growing LBS industry as a boon. The company has 2,700 employees and is currently hiring programmers with extensive experience in C++, Java, .NET, Silverlight, SharePoint, 3D, mobile technology, and UNIX/Linux for its Java, Mobile, Web, 3D and ArcGIS Engine engineering teams.
Another firm, Socialight allows businesses and individuals to create LBS mobile phone platforms. The company is profitable with six employees and expects to expand to 15 by the end of this year, then add about 15 more next year. Most of the positions will be engineers experienced with development in platforms including HTML 5, as well as GIS technologies.
"Anybody looking at programming for the Internet is not going to go wrong steering toward mobile and especially HTML 5," says Rahul

Sonnad
, CEO for Geodelic, which
enables companies to engage with customers based on location. "For us, the industry is huge."
Chandler Harris is a business and technology writer based in California.