When you hear the phrases "technology entrepreneur" and "third world women," chances are you conjure up very different mental images with very little overlap. A project in Silicon Valley is trying to change that. [caption id="attachment_105631" align="alignright" width="300"]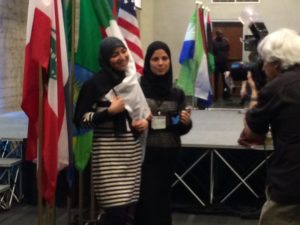 Algerian TechWomen Asma Belachi (l.) and Nassima Berrayah (r.) pose with their flag at the TechWomen Community Event in San Francisco[/caption] In its third year,
TechWomen
is a State Department program launched by former Secretary of State Hilary Clinton as a means to advance women's rights and foster cross-cultural awareness between the U.S. and the Middle East. It provides women already in science, technology, engineering and mathematics with a month-long stay in Silicon Valley to work on a project related to their field, followed by a visit to State Department agencies. The projects the women participate in involve creating business plans and beginning the development of software they plan to sell. This year's theme was entrepreneurship, and many of the participants, referred to as TechWomen Emerging Leaders, had already begun pilot projects before arriving here. During their stay in October, the 78 women from the Middle East and Africa worked with cultural and professional mentors. The professional mentors participated in developing their actual project, while the cultural mentors helped bridge any cross-cultural divides and introduced the women to American traditions. However, it may be Silicon Valley's business culture that had the biggest influence on the participants. "I had been taught I needed to attend the best schools and get good grades," said Angel Bisamaza at a TechWomen event held at Twitter's San Francisco office. The Rwandan, who had been hosted by VMware, said that through the program she learned that a passion for technology was even more important. Another participant, Egypt's Hanan Youssef said that she prefers the Valley's risk acceptance to the need for planning for contingencies five years in advance, as she was to do at home. The program began in 2011 with participants from Algeria, Egypt, Jordan, Lebanon and Morocco, as well as the Palestinian Territories. Last year it expanded to include Tunsia and Yemen. This year, it added the sub-Saharan nations of Cameroon, Kenya, Libya, Nigeria, Rwanda, Sierra Leone, South Africa and Zimbabwe. To participate, women must have a university degree and two years of professional STEM experience, not be U.S. citizens or residents, and must have had little or no exposure to the U.S. The application period is between mid-December and early February. A range of tech companies, including
Adobe
,
Cisco
,
Citrix
, EMC, Google, Intel,
Oracle
,
Pandora
, Salesforce, Twitter, VMware, and Zillow served as hosts. Pharmaceutical and alternative energy companies also served as hosts, as did the non-profits Berkeley Lab, NestHer, Impact Hub Oakland, Civic Insight, and Santa Clara University. Mentorship applications for the 2014 program will be available at the organization's website in the winter and spring.