by Don Willmott | Dice Learning
When economic times get tough and good jobs become scarce, we all hear the same advice: reinvent yourself, get training in a growth industry, learn new skills and improve the talents you already have. That's all quite sensible, but what about the Catch-22? How can you afford training for a good job if you don't already have a good job to pay for the training?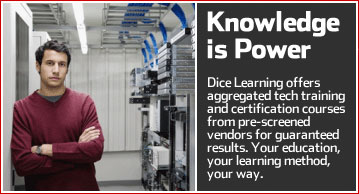 That's where tuition assistance and financing come in. There are many way to get help to pay for education, retraining, and certification so you can hit the books without having to save up the tuition. But there's no such thing as free money. What you'll have to spend is time: on research and the inevitable pile of paperwork that will be required to make financial assistance come your way.
In IT education, there are both college-level degree courses and certifications that prove your expertise with specific skills. While college courses may be a one-time expense, certifications come around again and again as your career progresses, and you'll have to pay hundreds - or even thousands - of dollars each time you move to the next level of proficiency and, one hopes, salary.
Even the quickest search uncovers thousands of places to study information technology. Many offer some kind of financial help, or at least financial advice, to prospective students. After taking a look across the landscape, we've identified these financial assistance strategies.
Get a Loan
While no sane person would put an entire college education on a credit card, individual courses or certifications are another story. If you need to take a class now and don't have the cash up front, charging it may be the way to go, assuming you can bear the load of the interest payments down the line.
Even if you don't have a credit card, some certification sites will extend you credit. At Training Camp, for example, you can study now and pay later - after 90, 180, or 360 days, with no interest until repayment starts. (Once active, the rate is 14.99 percent). You can also choose to pay steadily over 36 months at a 9.99 percent rate. Such loans are managed by Citi Financial, and you must be approved for the loans in advance. Other certification schools provide similar options.
Try for Financial Aid
Anyone who needs financial help should also investigate their certification through a local institution of higher learning rather than a certification school or service. The reason: Colleges and universities offer a plethora of financial aid options.
Every college has a financial aid office. If you plan to study at one, find it and start asking questions. Even online universities have a wide array of financial aid options. For example, at New York's
Borough of Manhattan Community College
, an
entire section of the Web site
is devoted to financial aid strategies, with more than 20 options to explore.
You may also be eligible for some kind of scholarship. The quickest way to find out is to visit
FastWeb
, a free service that takes your personal information and matches you up with scholarships for which you may be eligible. The site claims to list more than 1.3 million scholarships worth a total of $3 billion.
To follow the latest developments in financial aid for certificate courses and online degrees, visit the
financial aid blog
at
eLearners.com
, a useful directory of online courses and tests.
Ask Your Employer
Since layoffs are rolling through pretty much every industry these days, it may seem like career suicide to ask your boss for an extra perk, but don't be dissuaded if you have a strong case to make for your own continuing education. Many employers offer 50 percent or full reimbursement for career-related study.
The key phrase here is "career-related." If you're a network security specialist, for example, it doesn't make much sense to apply for reimbursement for those Photoshop classes you've been curious about. However, if there's a new Microsoft security certification out there, maybe you should aim for it.
It's crucial to make a strong case for how new skills will help you be a better and more productive employee in your current job. Be ready to demonstrate how, with specific examples. "Once I've mastered the new security tools, we'll be able to cut virus attacks by 80 percent and speed up the network as well," you might say. Great, get studying. Remember: Most employers would rather retain an ambitious employee than go to the expense of recruiting and training a new one. Just make sure that any promises you make, you keep.
Ask the Feds
To work your way through all these options in one helpful place, start at
FinAid.org
, a site that operates as a public service and has no vested interests.
Join the Military
It may seem like a drastic step, but the recruiters aren't kidding: One of the best ways to get both on-the-job training, as well as a free or heavily subsidized college-level education and certifications, is to be in the military or a veteran.
All sorts of facts and figures float around depending on your branch of service and current military status, but the bottom line is the G.I. Bill can provide up to $1,500 per month for school or vocational training, including certifications. To get the lowdown,
start here
, and brace yourself for a paperwork blizzard.
Our spot checks of certification schools, online universities, and real-world colleges finds just about everyone accepts payment via the G.I. Bill as long as all every T is crossed and every I is dotted. To get an idea of how a certification school will work with members and veterans of the armed forces, visit
CED Solutions
, which goes above and beyond to lay out in detail how much assistance you can hope for.
Don Willmott is a New York City-based journalist who focuses on Internet and technology trends.