"Holiday gifts for your guy," "holiday gifts for your girl…" We're throwing out those old tropes and offering a gift guide for the tech-centric. We're also eschewing seriousness and good taste. So whether you're fulfilling Secret Santa obligations, finding gifts for those relatives you usually don't shop for, or just giving into a whim, hang loose and keep smiling. Your lowest common denominator desires are just a click away.
Sartorial Statements
Inflatable Beard
$3.95 Not everyone has the genetics to grow a full beard, especially those men who'd do anything to win a competitive bearding contest. Now a generously hairy face is just a few mouthfuls of air away. This gender neutral inflatable beard will allow you to blend in at the annual Hawgs of Texas Rally, Civil War reenactments or that leather bar down the street.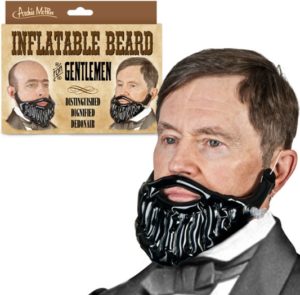 Roasted Turkey Hat
$8.95 This simply delicious wardrobe must is the answer to Aunt Nelda's request that your dress be "festive" for the family holiday party. Wear this hat and instead of fading next to your sisters' glamorous matching Quacker sweaters, you'll get a chance to sparkle like the star you are.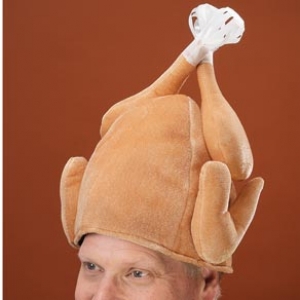 Bacon Formal Wear
$59.99 The bacon suit is this year's answer to last year's leather jogging pants. It's so far ahead of the curve that the New York Times' T Magazine hasn't covered it yet. This is fashion at its most tasty. Trend setters should avoid overt bacon fanatics and hungry guests at events with tiny designer food.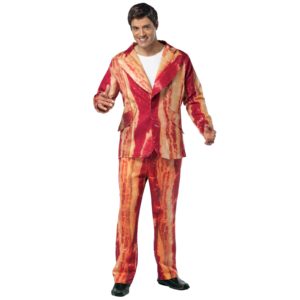 Freudian Slippers
$24.95 Because we just couldn't resist such an obvious pun. Slip on these fabulously comfy bedroom slippers, light up a cigar and ask yourself, "What would Freud do?"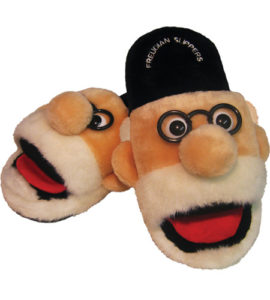 Chewbacca Bathrobe
$75.99 The Chewbacca bathrobe is not only for home, it's for work. What could be better than dispensing Wookiee hugs at the office (assuming HR approves), or possibly having a strong, visual reminder that the person wearing the Wookiee robe should have the final say? If you want to be boring and only wear it at home, go ahead. The robe will be perfectly happy. It fits most adults and is machine washable (unlike a real Wookiee).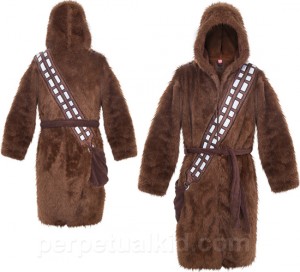 Kilt Towel
$24.99 Have you ever tried to wipe yourself down with your traditional kilt after climbing out of the shower? Well here's your answer to wet wool with a look-alike kilt towel. Traditional Scottish kilts finally get a very important upgrade and most importantly, now have more than one use.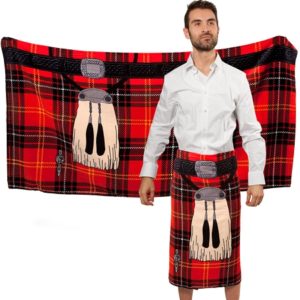 Handmade Shark Slippers
$38.00 To make the most of an entrance into any room, these vicious, upcycled shark slippers should be worn with either the Bacon Suit or the Kilt Towel. We promise it won't be too much. Shockingly, they're also available in toddler and baby sizes.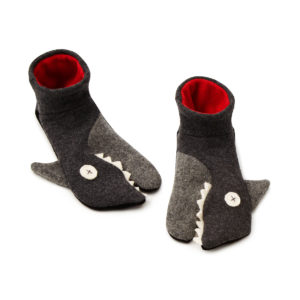 Blade Runner Umbrella
$29.95 Downsized from your sys admin position and reduced to tracking down replicants while you look for a real job? Never fear. Not only will this umbrella keep you dry, it will serve as a beacon and light up the dark underbelly of any city that those dodgy skin jobs hide in.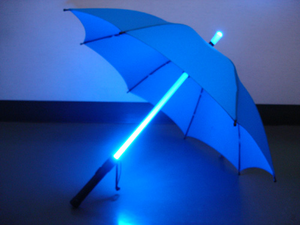 Hygiene
$100 Toilet Paper
$5.90 This soft to the touch, three-ply toilet paper is for the person who would love to have everything. Be kind and gift those less fortunate with the stuff to build their dreams on.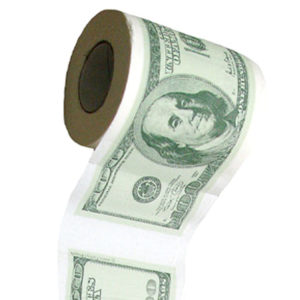 Kim Jong Il Tongue Scraper
$11.00 You and your loved ones can have breath as fresh as Kim Jong Il, father of the world's most famous living homicidal dictator. Curtsy deeply and hail the mighty mouth of hygiene.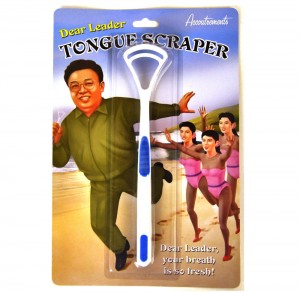 Public Toilet Survival Kit
$6.95 Caught on a never-ending road and really have to go? What will you do when you find that single restroom at the back of the only gas station for miles? This kit includes a toilet seat cover and two antiseptic wipes to take care of any unexpected disasters. There's also a pair of latex-free, disposable gloves just in case it's really, really bad.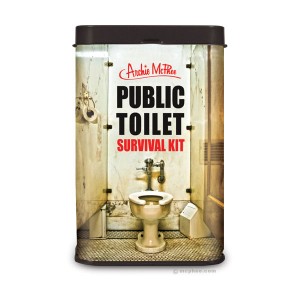 Home
Festivus Poles
$22.00 - $39.00 Santa and his sleigh can take a powder. Festivus's unfinished aluminum pole is nearly guaranteed to develop a layer of oxidization that may come off on your hands. If you wish to avoid dirtying your paws, you can coat your Festivus Pole with car wax, but don't be surprised if visiting naysayers grumble that you're too concerned with appearances.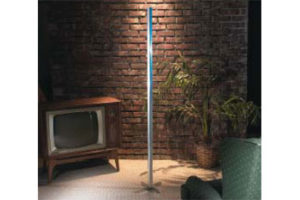 Henry VIII Vanishing Wives Mug
$12.95 Pay tribute to a time when a powerful man could remove pesky spouses who couldn't produce male heirs. The king's fat face responds well to the heat of a hot mug but his wives – not so much.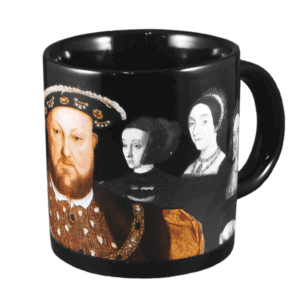 Star Trek Pizza Cutter
$39.95 Someone finally got hip to the fact that the
Enterprise
looks exactly like a pizza cutter. This solid zinc-alloy chromium-plated body has a laser-etched, stainless steel blade that boldly goes where pretty much everyone's gone before.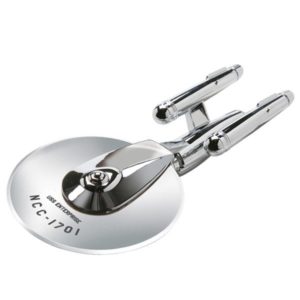 Pi Bottle Opener
$30.00 No kitchen should be without Pi. That is all.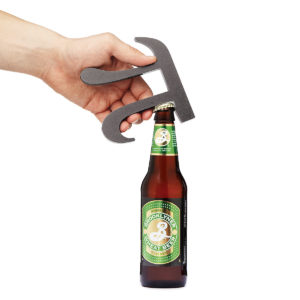 Giant Inflatable Animal Heads
$14.99 Tired of the collectible Soviet-era art posters and mid-century wall hangings littering your walls? Turn up the volume on your décor and earn Dwell magazine bragging rights with these giant inflatable animal heads. When everyone follows your lead and puts up the dinosaur, you can confuse and upset them by switching yours out with the bear, tiger or shark.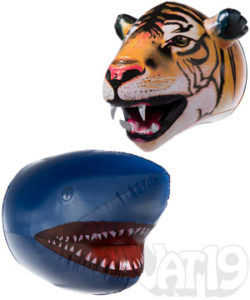 Life Size Elephant
$732.20 We debated putting this on the list but really, doesn't everyone need an elephant in the room? At a dainty 99 pounds, this life size, small-elephant statue is hand-crafted and highly detailed, as well as a good deal easier to clean up after than the real thing.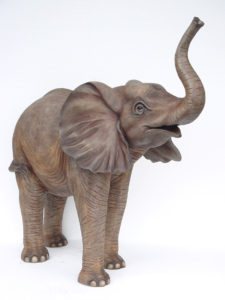 The Office at Home or Work
Butt Cooling Chair
U.S. price unknown The Japanese know what's up when it comes to oddball gadgets AND outfitting a cubicle. This office chair cover has a built in fan which blasts cool air up your keister during the dog days of summer, when the air conditioning goes on the blitz, or just for fun. It's USB powered -- obviously.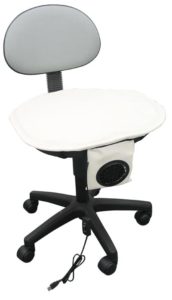 Finger Drums
$17.00 Finger Drums is a table top electric drum set that actually works. Not only does it play – loudly – you can record! Become the Charlie Watts of the office, or better yet give it to the guy who sits next to the guy who's been brown nosing the boss for your job.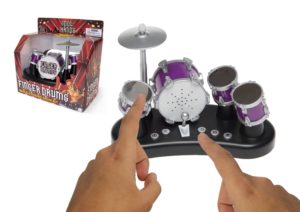 WTF! Button
$12.99 During times of high stress or moments of complete and utter disbelief, push the WTF! button in lieu of banging your head against the wall. It's capable of ten different expressions of WTF! and will prevent further brain damage from all that forehead slapping, blood pressure rising and head banging.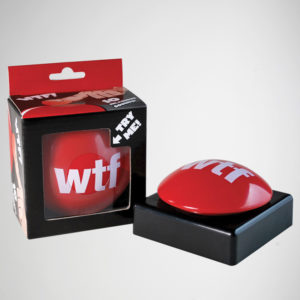 The Human Slingshot
$99.99 We've all wanted to throw someone across the room. Now there's a fun way to do it and the offending party won't even know they're being abused. With the Human Slingshot as many as four, life-sized adults can fling each other around the inside of a giant stretchable band. It's crazy fun and if you follow the rules, no one will break a hip or splatter on the wall.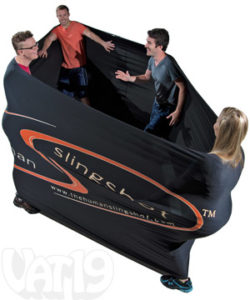 Pets
Toilet Dog Water Bowl
$20.99 Finally, you can keep the lid down and still make the dog happy because really… the dog won't know the difference. From here on in Fido can take his libations from a FAKE toilet and you'll no longer be responsible for wiping up the seat on the real thing.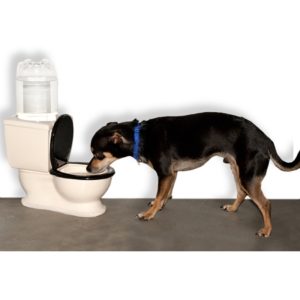 Sharknado Cat Hat
$20.00 Kittycide (death by your cat) is an underreported problem in America, but that shouldn't deter you from speeding up the process by purchasing this hat for your feline companion. Your family will have memories of you as well as great pix of the cat in the hat.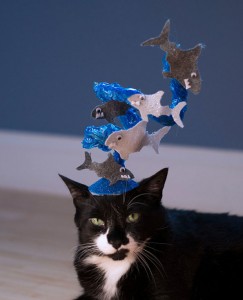 Custom Pet Nose Print Necklaces
$210.00 - $290.00 There's nothing quite like the obsessive adoration you feel for your pet. Whether you're team dog or team cat, you can now wear symbols of your love around your neck at all times. To create each piece, the artist mails a non-toxic molding kit and works directly from an impression of your pet's nose to create a one-of-a-kind keepsake in sterling silver. Careful when dipping Rover's nose in the mold, though. You don't want to lose a finger.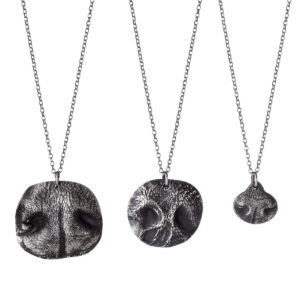 For People
Grow Your Own Boyfriend
$4.36 Just add water and your Mr. Right doll grows to be 600 percent larger. He's guaranteed to never argue, snore, pass gas under the covers or ruin your credit. For those of you not interested in Mr. Right, Ms. Right is also available and comes with the same guarantee.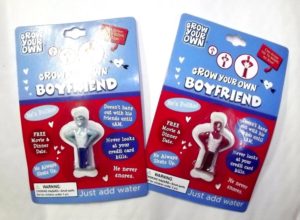 Volume Knob Baby Pacifier
$9.95 Despite their dangerous adorableness, little pudgy hands, nibbly feet and round cheeks, sometimes we just want to turn down the sound on those zany babies. Not guaranteed to work – at all – but may provide amusement to harried adults who've had enough.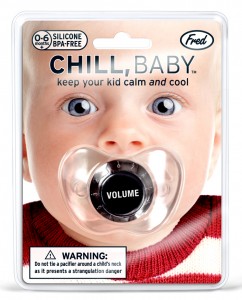 Freud and Couch Finger Puppets
$12.95 Fully expecting your children to be on the couch reliving every one of your parental failures when they're adults? Get them acclimated early by having them practice with the world's smallest psychotherapy session.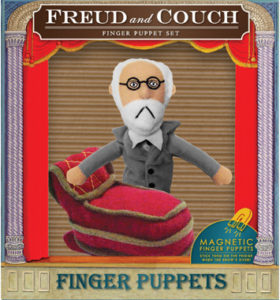 Happy Holidays, friends of
Dice
.