[caption id="attachment_14311" align="aligncenter" width="600"]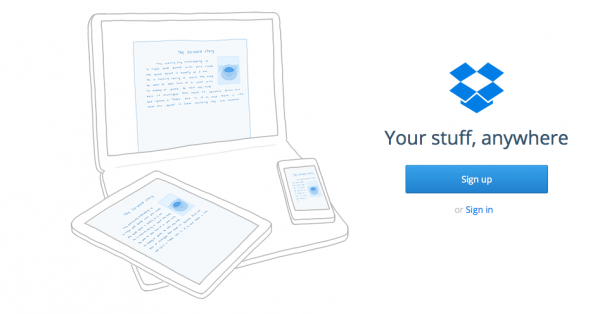 Dropbox.[/caption] Dropbox thinks it's worth $8 billion.
According to Bloomberg BusinessWeek
, the online-storage startup wants to raise $250 million over "the next few weeks" in exchange for a relatively small stake, arguing that its 200 million users (and 4 million commercial clients) makes it a growing IT juggernaut. The company already managed to raise $257 million in venture funding over the past five years. Dropbox plans on using that money to grow the corporate side of its business—which means not only building new software (and hiring the necessary engineers and developers to do so), but also creating a sales team that can market the resulting products to enterprises with quite a number of online-storage alternatives to choose from. In addition to startups such as Box, various IT giants (most notably Google and Amazon) maintain IT infrastructure and tools for storing user data. In a bid to preserve its relevance in an increasingly crowded market, Dropbox made some big moves this year. In March it acquired Mailbox, makers of a popular app for managing email, for an undisclosed sum; at the time, Mailbox's service capacity had grown by 2000 percent since launching in February, and it was delivering more than 60 million emails per day. Dropbox also released APIs that allowed developers' apps to work with the service as if it were a local file-system on a device, a good way to increase the platform's reach into the mobile arena. But Dropbox may need to work to convince some businesses that its cloud platform is truly secure. The company began taking heightened security measures in mid-2012, following a security breach that flooded users' email addresses linked to Dropbox accounts. "Our investigation found that usernames and passwords recently stolen from other Websites were used to sign in to a small number of Dropbox accounts," read a July 31 posting on
The Dropbox Blog
. "A stolen password was also used to access an employee Dropbox account containing a project document with user email addresses." Within a few weeks, Dropbox had introduced two-factor authentication. So while Dropbox has a sizable user base, it also faces some stringent requirements—and a whole lot of competition—if it wants to become more of a player in the business arena. It could take a whole lot of work to justify that $8 billion valuation.
Image: Dropbox