[caption id="attachment_13008" align="aligncenter" width="618"]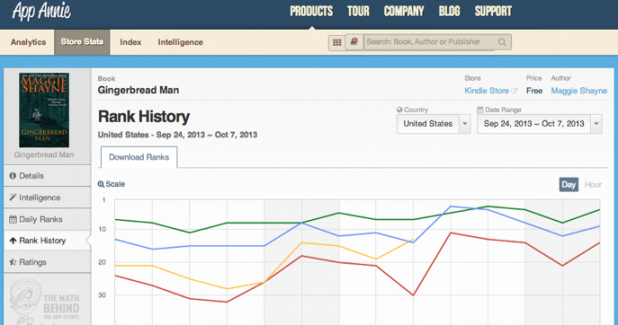 App Annie's e-books dashboard.[/caption] Over the past few years, e-books have evolved from publishing sideshow to a major source of revenue for publishers and authors. That makes it fertile ground for an analytics tool of some sort, which App Annie has obliged with a new dashboard designed to slice and dice e-books' sales data. "Tracking eBooks performance is no easy task, especially when you have multiple titles on iBooks and Amazon's stores," reads the firm's rationale for its new product,
as posted on its blog
. "Downloads, revenues, ratings, reviews, rankings are all details that should be easy to measure, but with existing tools it's time consuming and tedious." How does an analytics package sidestep that tedium? It requires the author or publisher connect their Amazon Kindle Store and Apple iBookstore accounts to App Annie, which filters the aggregated data through its dashboard. The end result, of course, is a series of reports (soon available via mobile device, in addition to PC) that break down everything from sales and downloads to bookstore rankings and customer reviews. As a result, the dashboard will show how your humble tome matches up against the millions of other books available via the Apple and Amazon storefronts, and perhaps get a better idea of trends over time—whether a particular book sells better in conjunction with certain holidays, for instance. (Such data's also liable to drive some authors, rarely the chirpiest creatures, into an even deeper depressive hole.) While e-books have likely led to immense profits for Amazon (the online retailer refuses to break out its Kindle sales for Wall Street), their popularity has caused no end of consternation for Apple and several traditional publishers. Over the summer, Apple was convicted of conspiring with five publishers to fix the prices of e-books in the United States, and the U.S. Department of Justice is doing its best to hit the tech giant with a substantial penalty for doing so. Barnes & Noble (which produces the Nook, a Kindle rival) is doing its best to preserve its business in this digital environment,
but there are troubling signs that those efforts are proving insufficient
. However those corporate battles work out, publishers and authors now have yet another analytic tool for figuring out how their e-books are performing on the open market. Tools similar to App Annie's will doubtlessly appear soon.
Image: App Annie