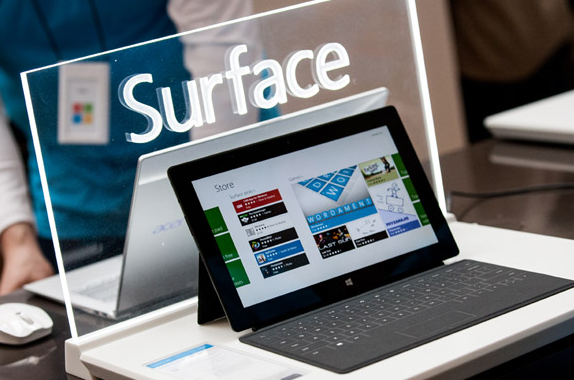 Microsoft has earned $853 million from sales of its Surface tablets, according to the company's annual
Form 10-K filed with the SEC
. That's a bit of a disaster, to put it bluntly.
Earlier estimates
put Surface sales at roughly 1.5 million units; the $853 million figure reinforces that projection. By comparison, Apple sold 14.6 million iPads in its last quarter alone. Adding insult to injury, Microsoft spent quite a bit producing and marketing Surface. The Windows division's "cost of revenue increased $1.8 billion, reflecting a $1.6 billion increase in product costs associated with Surface and Windows 8, including a charge for Surface RT inventory adjustments of approximately $900 million," read the Form 10-K. "Sales and marketing expenses increased $1.0 billion or 34 percent, reflecting an $898 million increase in advertising costs associated primarily with Windows 8 and Surface." Overall, Microsoft's Windows division earned $19.2 billion in its fiscal 2013. Microsoft launched the Surface in late 2012 with the expectation that it would perform well in the tablet market, where Windows had yet to make a significant showing. The first version, Surface RT, ran a version of Windows 8 designed for hardware powered by the ARM architecture, which dominates the mobile device market. A few months later, it followed that up with the Surface Pro, a slightly heavier version equipped with "regular" Windows 8 and an Intel chipset. Microsoft has already slashed Surface RT prices by $150, hoping to jog sales. Microsoft CEO Steve Ballmer told employees at a recent company event that Windows hasn't been selling well enough,
according to Neowin
. Despite the tepid response to Surface, Microsoft is reportedly working on a second generation of tablets. The company is probably hoping that it can play the long game and gradually raise sales over the course of many years—a strategy that worked for its Xbox gaming console. But given those early sales figures, it remains to be seen how much appetite Microsoft ultimately has for that sort of grind.
Image: Microsoft