[caption id="attachment_13595" align="aligncenter" width="446"]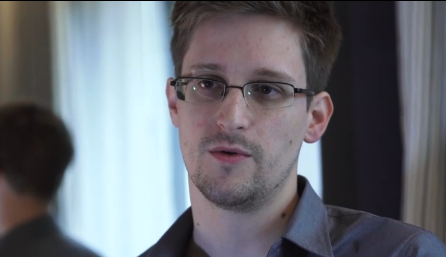 "Could you describe what the bug's doing to your account?"[/caption] Government whistleblower Edward Snowden, exiled in Russia after releasing top-secret documents about the National Security Agency's surveillance activities to the press, has a new job: tech support. Snowden's lawyer, Anatoly Kucherena,
told the Associated Press
that his client starts work Nov. 1 for a "major" Russian Website, which he declined to name. In June, Snowden—a former CIA employee who worked as a contractor for the NSA—began feeding an enormous pile of classified charts and documents about federal surveillance programs to
The Guardian
and other newspapers. Many of those documents suggested that the NSA, ordinarily tasked with intercepting communications from terrorists and foreign governments, collects massive amounts of information on ordinary Americans, which in turn ignited a firestorm of controversy. One of the NSA projects described in the
Guardian
's resulting articles, PRISM, allegedly siphons information from the databases of nine major technology companies: Microsoft, Google, Yahoo, Facebook, PalTalk, YouTube, Skype, AOL, and Apple. (In emails to Slashdot and other media outlets, as well as
postings on their respective corporate blogs
, many of these companies have denied involvement with PRISM.) Subsequent revelations over the summer detailed similar NSA programs that pull in data on millions of people from all over the Web. The Snowden revelations have continued into this week, with
The Washington Post
reporting that the
NSA has aggressively targeted Google and Yahoo servers
. Snowden's documents suggest that the agency has figured out how to tap the links connecting the two tech giants' datacenters to the broader Web. Google told the
Post
that it was "troubled" by the report. A Yahoo spokesperson insisted that the company had "strict controls in place to protect the security of our datacenters" and that "we have not given access to our data centers to the NSA or to any other government agency." Snowden traveled from his home in Hawaii to a hotel in Hong Kong before turning over his documents to
The Guardian
; afterwards he fled to Russia, where he successfully obtained temporary asylum. After his asylum fight (which took place at Moscow's Sheremetyevo Airport, where he was holed up in a legal netherworld outside of customs), he largely disappeared from sight. But everybody's got to eat, and so Snowden has resurfaced again, apparently ready to combat Website bugs.
Image: The Guardian (video)