Sometimes you and a client must part ways, maybe even before your projects are completed. If you've decided that you're leaving, what do you do? How do you leave gracefully?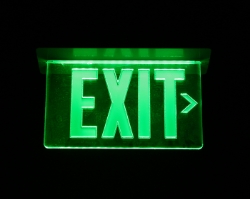 First and foremost, you want to make sure that your reputation—a good one, if you've managed it right—will stay intact. This means you need to ensure that you depart on a positive note and remain a positive influence even after you're gone. Here are some things that I do in order to manage the relationship, especially for projects not completed.
Clean Up Your Documentation
Make sure that you are up to date on all your required documentation and statuses. This will be the start of conversation as you bring the next person up to speed, or for someone else to pick up from when you are gone. If there are required items that the project team has decided not to complete, make sure that they're identified in a single place. That will help your successor as he or she begins to research the project and resume driving it forward.
Complete Budgeting
Do a last-minute check on the budget. I currently manage a monthly communication to all stakeholders, but typically review the budget weekly, or even daily, depending on which phase the project's in and what issues are open. Before your last day, run a quick budget and update your managers so they don't get any nasty surprises when you leave.
Report Current Status
Pull together a status report for all projects still in flight. This will typically be provided to the client and management team to give a snapshot of the work at the point you leave. This is also useful for providing the new project manager with all open items, issues, dependencies and potential risks. It's another way to provide a head start for the next person in line.
Stay in Touch
Even though you may be leaving, keep up your communication with the client's team. They'll remember this. It shouldn't matter where you work, continue to act as if remaining in contact is important to you. It should be. Doing so will help with your networking efforts and may also provide visibility to other opportunities within the same company or group.
Say Goodbye
Don't ever leave a company without saying goodbye. It's always a good idea to do this in person for those you work with on a daily or frequent basis. For those you don't know as well, an e-mail will suffice. What's
your
exit strategy? Image:
Neon Green Exit Sign
[Bigstock]