Facebook plans to offer its employees access to a hip 394-unit apartment complex within walking distance to the company headquarters, complete with its own doggy daycare center and sports bar. The $120 million apartment complex will span 630,000 square feet and feature other amenities including a pool, cabana section, rooftop deck, yoga rooms, concierge service and an "iCafe," reports
the Silicon Valley Business Journal
. The cafe, doggy daycare and sports bar will be housed in a 13,000 square foot section of the complex that will also include a convenience store. Do images of a college campus come to mind? They should. Facebook's "amenities team"
worked with developer St. Anton Partners
to create the complex. A spokesman for the architect KTGY Group told The Wall Street Journal that the project is currently in the design phase and is expected to take 24 months to complete.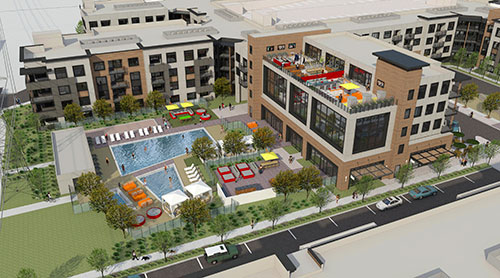 And while the complex will have several hundred units available at market rates, only 15 will be set aside for Facebook employees. In practice, though, it's likely that more than 15 Facebookers will seek housing at the center, given its roughly two-mile proximity to the Facebook campus. Even if company employees grab virtually all of the units, that would amount to roughly 10 percent of its Menlo Park workforce, notes the Journal. Apparently, Facebook employees have faced a tough time finding places to live near the corporate campus. Image: KTGY Group