[caption id="attachment_10456" align="aligncenter" width="572"]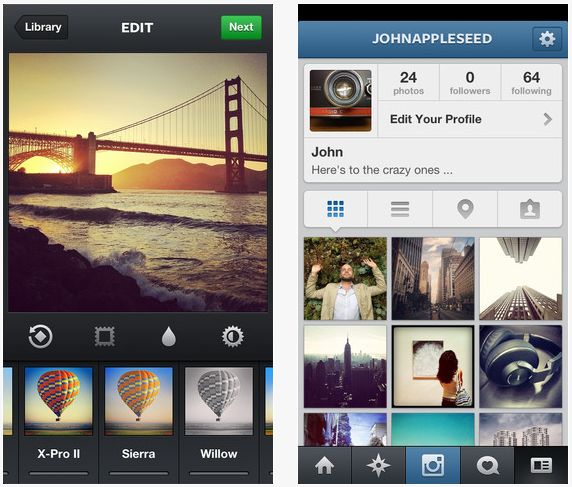 Instagram.[/caption] Forget Google Plus (or Google+, as Google refers to it): Twitter might prove Facebook's most dangerous opponent.
TechCrunch suggests that
Facebook will use a press event this week to roll out a new video feature for Instagram that will mimic the functionality of Twitter's Vine, which captures six-second video loops. TechCrunch cited
earlier reporting by journalist Matthew Keys
that suggested these Instagram videos could be limited to 10 seconds. Twitter has spent the past several months developing into a service capable of far more than displaying its users' 140-character Tweets. In addition to Vine, it has launched a photo service packed with Instagram-style filters and editing tools. Last week,
it also opened up its analytics dashboard
to all account-holders, not just advertisers. And if that wasn't enough to make Facebook a little worried, Twitter's
experimenting with e-commerce
as another revenue stream. Although Twitter lags behind Facebook with regard to total users, third-party research firms hint that the network is rapidly catching up.
GlobalWebIndex
recently posted data positioning Twitter as the world's fastest-growing social platform, with its number of active users increasing 42 percent between the second quarter of 2012 and the first quarter of 2013.
A study published by Nielsen and NM Incite
in late 2012 drew similar conclusions about Twitter's growth relative to Facebook. Twitter and Facebook are already engaged in a low-key war. Back in December, Facebook disabled Instragram integration with Twitter; while Tweeting links to Instagram photos is still possible, users can't view those images directly on Twitter. That cutoff came just as Instagram launched a Web-based version of its service, complete with user profiles—a significant foray beyond its traditional territory in mobile devices. At the time, pundits suggested Facebook's move was symptomatic of the industry's desire to build barriers around its products, restricting interoperability in the name of profit. "The only way these companies can succeed financially is by tricking members and forcing them into walled gardens," Dan Lyons wrote in
a Dec. 10 ReadWrite posting
. "Think of it this way—there's a reason that they don't hold a circus out in the open, and instead put it under a tent—and it's not to keep you dry in case of rain." But Facebook's decision to emulate Vine—again, if such a service is really coming—hints that the competition between the two is deepening, and could assume the same kind of feature-centric tit-for-tat that has defined some of tech's biggest rivalries, such as Apple vs. Google. Unlike Google, neither Facebook nor Twitter has a secondary or primary business to fall back upon if it stumbles in the social-networking realm; for both, this is a case of "all in." If Facebook emulates Vine, it could be interesting to see what Twitter does in response. More detailed profile pages, anyone?
Image: Instagram