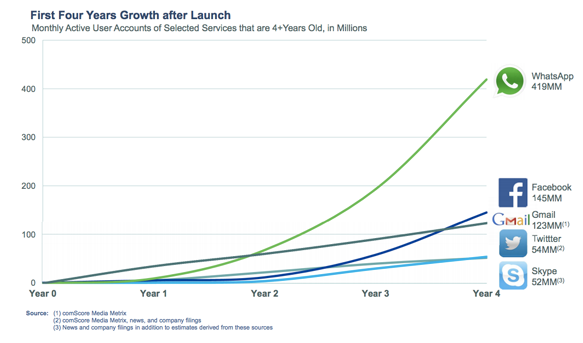 Facebook will spend $16 billion in cash and stock to acquire messaging service WhatsApp, a mind-boggling sticker price that raises two questions: 1.) Is Facebook CEO Mark Zuckerberg insane? 2.) Can we admit that the tech industry is in a bubble? The answers to those questions are, respectively, "No" and "Yes." Four months after
Snapchat turned down his $3 billion acquisition offer
, Zuckerberg needed to make a splashy move in the messaging-app space, which threatens to disrupt online social networks in their current form. Four years after its launch, WhatsApp's customer base stands at roughly 450 million, a number that (if estimates prove accurate) will only increase in coming years; what's more, the app is popular worldwide, with 70 percent of customers using it every day. Facebook just paid between $35 and $40 for each of them. That's some robust growth and usage at a time when Facebook's own numbers are beginning to stagnate, particularly among younger users. More than anything else, that growth also drove the massive acquisition price. At this point in its existence, Facebook has all the engineers and developers it needs to build any sort of software feature it wants; it could design and build a suitable WhatsApp clone in a weekend (in fact, parts of Facebook's popular Messenger app overlap with new acquisition's core features). Zuckerberg is betting that, in the long run, it's more effective to swallow up an established player than to launch something new and fight for market share; nobody within Facebook desires a repeat of Home,
the company's ill-fated effort to launch a mobile pseudo-OS
. "A mobile presence is a must-do in the current digital environment," is how Kara Swisher
summed it up over at Re/code
, "and this massive acquisition makes it clear that Facebook has decided that its core strategy will be to create or buy up must-have apps that consumers demand to have on their mobile devices." But WhatsApp creates some complications for Facebook. It only generated $20 million in revenue last year,
according to Forbes
, and its two co-founders are vehemently opposed to advertising; if Facebook wants to make back its substantial investment before the end of the century, it will need to figure out how to squeeze additional revenues from the app's business model—potentially a difficult thing, if WhatsApp remains an independent subsidiary as promised. Larding up the interface with more ads would just kill the golden goose. And that's where the "bubble" part comes in. Facebook bought Instagram in 2012 for $1 billion, a price that seemed exorbitant at the time but has since proven something of a bargain, considering the photo service's enduring popularity. A year later, the social network was willing to pay three times as much for Snapchat, which failed after the latter's founders rejected the offer. Now Facebook's paid the equivalent of 16 Instagrams for another messaging app, albeit one that comes with a huge customer base. One could argue that, in these hyper-competitive times, Facebook needs to make these kinds of deals in order to stay relevant, expand its online footprint, and fend off competition from Google. Zuckerberg himself might insist that those goals must be achieved at any price—but some shareholders probably cringed when they saw that $16 billion figure.
Image: Facebook