[caption id="attachment_10726" align="aligncenter" width="423"]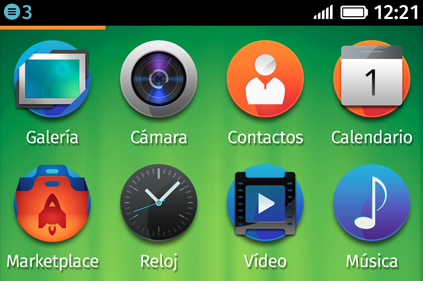 Firefox OS features grids of apps, reminiscent of the iOS and Android user interfaces.[/caption] Mozilla and its hardware partners have begun launching the first Firefox OS smartphones, starting with
Spain's Telefonica releasing the ZTE Open
later this week. But can Firefox OS make a significant impact on the current smartphone landscape? A lightweight mobile OS based on HTML5, Firefox OS (once known as "Boot to Gecko") offers a user interface instantly familiar to anyone who's used Google Android or Apple iOS: in addition to home-screens of individual apps arranged on a grid, features include messaging, email, built-in social-networking, maps, and the Firefox Web browser. There's also Firefox Marketplace, an online storefront of HTML5 apps; early apps include Twitter, Facebook, AccuWeather, and a handful of games. The software's supposed "killer" feature is an adaptive app search that allows users to input a particular search term (such as a musician) and receive information from both their phone and the Web (for example, searching for a particular musician might return a song stored on the phone, along with a selection of Websites related to that artist). It sounds a bit like a smartphone-centric version of Mac OS X's Spotlight or Windows 8's universal search feature, and it could help those users who have a hard time finding the right content on their device or online. "The launch of Firefox OS marks an incredibly exciting time for the Web. Firefox OS powers the first smartphones built entirely on Web technologies and will stimulate an inspiring new wave of innovation for the Web," Jay Sullivan, Mozilla's chief operating officer, wrote in a July 1 statement. "We are proud to deliver an experience for first time smartphone users that will delight them and really put the power of the Web in people's hands." But can Firefox OS make any headway in a mobile-device crowded with options? At this February's Mobile World Congress, Mozilla claimed that some 17 operators around the world have committed to the Firefox OS initiative, including China Unicom, Sprint, MegaFon, and the Telecom Italia Group. But many of those operators released rather ambiguous statements about whether they would launch an actual Firefox OS smartphone. Tony Cripps, principal device analyst at Ovum, wrote in a research note earlier this year that "the real acid test for Firefox OS and its long-term prospects is the quality of the software itself and the user and developer experiences that it fosters." In other words, Mozilla and its partners need to produce some quality devices, paired with a variety of spectacular apps. Some early reviews of the ZTE Open weren't good, to put it mildly,
with The Verge citing
"unremarkable hardware" and a "laggy" OS. If several hardware partners can launch Firefox OS phones with solid hardware, however, and back those launches with well-funded marketing campaigns, there's the chance that Mozilla's software could be something other than an also-ran. In addition to Android, iOS, BlackBerry and Windows Phone, Firefox OS faces competition from Canonical, which is working on a version of the open-source Ubuntu operating system for smartphones.
Image: Mozilla