[caption id="attachment_17965" align="aligncenter" width="603"]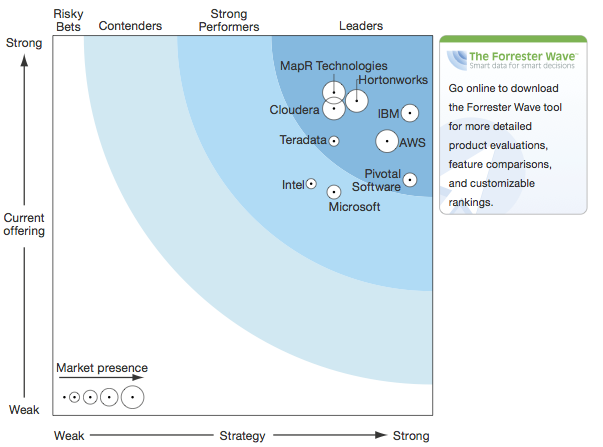 Forrester's visualization of its Hadoop firms' rankings.[/caption] Research firm Forrester decided to rank some of the biggest players in the
Apache Hadoop space
. "Hadoop is unstoppable as its open source roots grow wildly and deeply into enterprise data management architectures," its report begins. "Its refreshingly unique approach to data management is transforming how companies store, process, analyze, and share data of any size and structure." Forrester believes that Hadoop, because of its capacity to massively scale, can benefit companies by helping capture and store "all data for all business functions" in a single "data lake," as opposed to restrictive silos. With Hadoop's popularity exploding, IT vendors have rushed to introduce their own unique distributions, as well as tools and "accessories" for integrating, modeling, visualizing, and otherwise analyzing the associated data. Forrester evaluated how those vendors are performing in the Hadoop space, based on a limited set of criteria: current offerings (from setup and monitoring tools to compatibility and community features), strategy (how each vendor plans to meet customer needs), and market presence (global presence, install base, and more). The nine vendors under consideration included Amazon Web Services (AWS), Cloudera, Hortonworks, IBM, Intel, MapR Technologies, Microsoft, Teradata, and Pivotal Software. What did Forrester conclude? No one company dominates the space, despite the larger IT vendors' determination to push out as many Hadoop-related products as possible. Hortonworks, Teradata, MapR Technologies, Cloudera, IBM, AWS, and Pivotal Software all qualified as "Leaders," with a strong combination of current offerings and strategy. Microsoft and Intel qualified as "Strong Performers." None of the nine went into the weaker "Contenders" or "Risky Bets" categories. Among the leaders, Forrester cited Amazon Web Services as "king of the cloud" with a strong range of products and parnters for Hadoop development. The firm also called out Cloudera's innovation, Hortonworks' focus on open source, IBM's ability to leverage its enterprise assets to offer a global presence and advanced analytics tools, and the strength of MapR Technologies' current offering.
The report offers much more
, including an exhaustive breakdown of how each firm performed in the various categories.
But as Matt Asay points out over at ReadWrite
, the text neglects to mention the sizable impact of the open-source community on Hadoop's development; he also dings the firm for placing more emphasis on how Hadoop integrates with each company's existing software portfolio, rather than how they work to improve Hadoop.
Image: Forrester