One way to track the overall health of the IT industry is to track sales in the hardware, software, and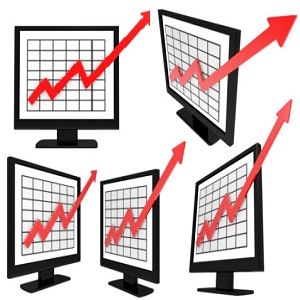 services markets. After all, if we start seeing that people are buying more servers and apps and hiring people to get them up and running, then certainly things are looking brighter. The newest bit of industry pulse taking comes from
Forrester Research
, whose
latest report
finds encouraging signs and kicks things off with this statement: "The tech downturn of 2008 to 2009 is unofficially over." What's the evidence?
The US IT market will grow by 6.6 percent in 2010 (twice the 3.1 percent growth in nominal GDP), following a drop of 8.2 percent in 2009.
The global IT market will rise in 2010 by 8.1 percent in US dollars, and by 5.6 percent in local currencies.
Growth will start slowly in 2010 but pick up steam later in the year, with computer equipment (especially PCs and storage) and software leading the way, and IT consulting services following.
Computer equipment, including PC replacement, servers, and storage equipment, will grow 11.1 percent from 2009.
Software sales will grow 10.5 percent.
Total U.S. business and government IT spending will total more than $741 billion this year, including $194 billion to be spent on software.
Forrester also says what many others have noticed: software-as-a-service is leading the way in software growth. The cloud continues to attract attention - and dollars. --
Don Willmott