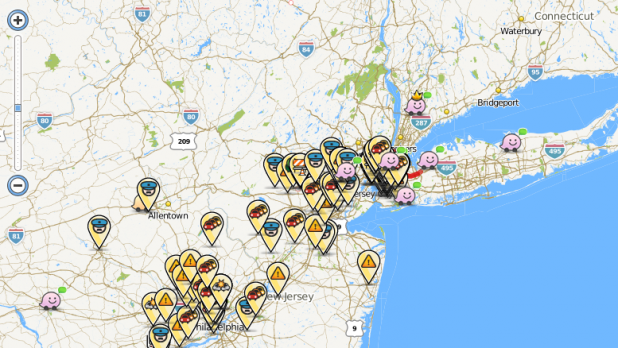 Antitrust regulators from the Federal Trade Commission (FTC) are reportedly probing Google's $1.1 billion acquisition of mapping-and-navigation company Waze.
According to The Wall Street Journal
, it's unlikely that the FTC would scuttle the deal, as that would require the agency prove that such an acquisition would give Google unfair control of the digital-mapping market. But the FTC is still interested in investigating whether Google's acquisition removed a competitor from the market, or if Google spent that billion-and-change just to keep Waze's assets from rivals such as Facebook—both of which could drive the FTC to ask the search-engine giant to not integrate Waze's assets, but leave it as an independent entity. Google already plans to keep Waze separate, although it will incorporate some of the latter's software into its Google Maps platform. Some consumer watchdog groups had already taken issue with the acquisition. "The Internet giant was able to muscle its way to dominance by unfairly favoring its own service ahead of such competitors as Mapquest in its online search results," John M. Simpson, privacy project director for Consumer Watchdog,
wrote in a June 12 letter
to U.S. Assistant Attorney General William J. Baer. "Now with the proposed Waze acquisition the Internet giant would remove the most viable competitor to Google Maps in the mobile space." (Hat tip to
ZDNet
for linking to that PDF.) Simpson also argued that the Waze purchase would give Google "access to even more data about online activity in a way that will increase its dominant position on the Internet." Waze's eponymous crowdsourced mapping-and-navigation app allows users to share real-time traffic and road information. "It's like a personal heads-up from a few million of your friends on the road," reads a blurb on the
company's Website
. Apple and Facebook reportedly sniffed the company as a possible acquisition before Google stepped in. Google has devoted considerable effort to its mapping assets, partially in an effort to hold off other IT firms' forays into the space. The ability to crowd-source traffic information could play a powerful role in that effort; and it could spark Google's rivals, most notably Apple, to either build or buy something in response.
Image: Waze/Google