Did you endure Black Friday and Cyber Monday and still not finish your holiday shopping? Well, fear not. Dice is here to make your life easier with a handy gift guide that will take care of everyone from the office Secret Santa to your beloved, and it's all available in one user-friendly column.
Office
Want to shake things up at the office? Check out
AirSwimmers RC
, flying se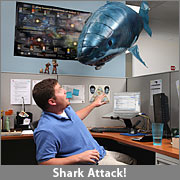 a creatures that are perfect for terrorizing the guy in the cube next door who never gets off his cell. Nemo's cousins stalk through the air with incredibly life-like motion. Fill them with helium at the nearest party store, grab the remote and guide the beasts toward office armageddon. Straight out of "Aliens," sci-fi and film fans will delight in drinking their cuppa from an official
Weyland-Yutani mug
. This 15-ounce mug features

the faux firm's logo in smoke gray. Drinking from it will not induce alien-bursting-from-chest syndrome. Inject some silly, smarty-pants snark into the office party with
Shakespeare Insult Playing cards
, which feature insults from the Bard on every card, including our personal favorite:
Sblood, you starveling, you elf-skin, you dried neat's tongue, you bull's pizzle, you stock-fish! O for breath to utter what is like thee! You tailor's-yard, you sheath, you bowcase; you vile standing-tuck!
Experts say even fakin
g a smile can make you feel better, especially at work. Well they don't get any faker than this with
Smile on a Stick
. Give a set to everyone on your team. They need it.
For Her
The
Nerd Herder Gadget Wallet
is an efficient, versatile catch-all for women (and men) on the go. The interior has convenient pockets that are made to accommodate valuables like her guitar picks, lip balm, jewelry, flash drive, SD card, iPhone, Blackberry or Droid and earbuds. Her essentials are guaranteed to remain securely in place. The wallet also gets points for being handmade in the USA. The
Dr. Who Tardis half apron
will keep your sweetheart's clothing clean and mean
without the need for intergalactic assistance. While she directs at the stove, she'll appreciate your efforts to contribute to her fabulous geekiness. Among Daenerys' most prized possessions are the three petrified dragon eggs gifted to her upon marrying Khal Drogo. That tender moment is immortalized here with the
Game of Thrones Dragon Egg Necklace
. Strung on an antiqued chain, this sweet gift comes delicately packaged in a small pouch with a Game of Thrones logo. You know she's read the CDC's guide and has her zombie contingency plan in place, but has she put her
Zombie Survival Kit
together? Be a sport and make sure she's got a pack for her home, as well as one for her car. You may be pounding on her door when the apocalypse comes.
For Him
Give him another reason to monopolize the bathroom with
Slam Dunk Toilet Basketball
. It's the perfect gift for practicing his aim in private. Attach the net to the back of your bathroom door and get ready to hear huzzahs as he challenges LeBron from the throne.
Tactical Canned Bacon
would be handy in a catastrophe or during a bout of late-night gaming, but seriously, does anyone really need an excuse to eat bacon? We've been assured that this is the very best canned bacon ever. It comes in actual crunchy strips and is blessed with mag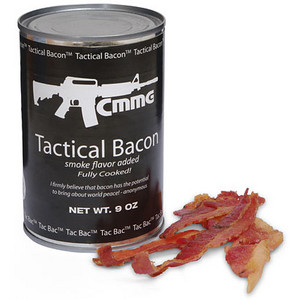 ic preservatives that will allow it to endure for over a decade. Does he have OCD—Obsessive Chopping Disorder? Is his mantra "perfection at all costs" when he's slicing and dicing in the kitchen? Here's a solution: the
OCD Chef's beechwood chopping board
. This necessary gadget spells out measurements for julienned or diced vegetables in such exacting detail that he may need a geometry refresher before using it. When he waves this realistic
Magic Wand Remote Control
at the TV, he'll feel a surge of manly, wizard-like power. The motion-sensitive, button-free universal remote offers 13

predefined movement "spells" that he can cast to make TVs, DVD players, DVRs and even iPod docks obey his commands.
For Baby
Does your baby want to drink the blood of mortals? To avert disaster, this
Lil Vampire
Pacifier is the way to go. It features luscious red lips and a full set of teeth, including sharp canines for sucking the life out of the living. Make sure your little darling's fangs are of the rubber variety when handing him or her off to Grandma. You won't regret it. There's nothing sadder than having a diaper bag full of sticky, crumbled snacks spilling out of tired plastic baggies. This handy
Caterpillar
lets you keep all baby's snacks safe and intact while on the go. The lid lets little hands in, but keeps treats where they belong. It's perfect for travel and dishwasher-safe, BpA-free, Phthalate-free and PVC-free.
For Fido and Kitty
Kitty is sure to be amused by this
Laser Image Chase Toy
. It automatically projects a laser dot that darts across a floor in unpredictable patterns, inciting pets (or maybe a two-legged family member) to engage in a perpetual game of chase. The device has four speed settings and is a surefire way to wear out your four-legged pals.
Remember those red wax lips that you loved at Halloween? They've been reinvented as the
Humunga Lips Dog Toy
. Recommended for dogs with a really good sense of humor, it comes complete with a rubber ball on one end and giant puckered lips on the other. Perfect for photo ops and smooching with humans.
For the Whole Family
Finger Sporks
make dining fun for all ages! Slide one colorful vinyl spork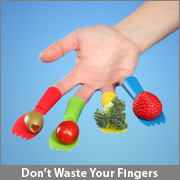 onto each of your fingers and hilarity ensues. Gift a picky geekling with a set and watch them miraculously try everything on their plate. You'll redefine what it means to eat with your hands and engage in awkwardly fun, meal time bonding. Turn your kitchen into a food laboratory with a how-to
Molecular Gastronomy Kit
. This may be the only time you'll actively encourage everyone to play with their food. The whole family can learn how to transform liquids such as honey into jelly-like cubes, spherify chopped produce into flavor-packed beads, or even morph melted chocolate into a delicate powder or spaghetti-like strands.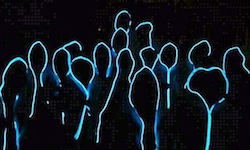 Want something really special for the family portrait? The form-fitting
Delaware St. hoodie
has a luminous electric rope running up the seam of the zipper, around the edge of the hood and then back down the other zipper seam. You can take your pictures with the lights on for family hoodie uniformity and then off for maximum effect. If you're planning a holiday trip to Disney World, the electric rope detail will come in handy if you lose Junior in the dark.