GoDaddy is apparently experiencing a severe outage, taking down Websites hosted by the provider. Hackers associated with Anonymous are claiming responsibility for the situation, although the actual causes remain unclear. GoDaddy posted up a Tweet at 12:35PM on Sept. 10 that read: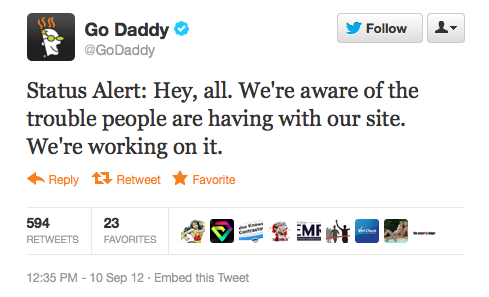 That sparked a flurry of Twitter replies from anxious users claiming their GoDaddy-hosted sites were offline: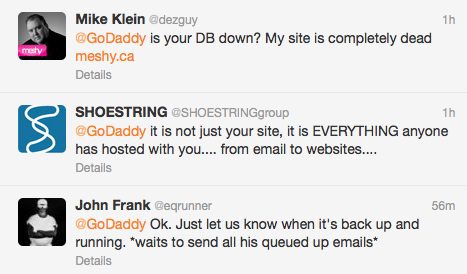 A portion of those users claimed that GoDaddy-hosted email was also down, indicating that the company's DNS servers are experiencing some sort of issue.
TheNextWeb
uncovered a
Tweet from AnonOpsLegion, associated with Anonymous
, suggesting that GoDaddy's problems are the result of a Distributed Denial of Service (DDoS) attack. However, other Anonymous-associated Twitter feeds, including
YourAnonNews
remain silent on the issue (indeed, the latter's most recent message is in support of the striking Chicago Teacher's Union). Whatever the case, the GoDaddy outage is causing a fair bit of pain among those users who rely on a GoDaddy-hosted Website for income. "I would be a lot more sympathetic if they weren't harming ordinary people trying to make a living," wrote one commenter on TheNextWeb's comment forums. "I understand attacking a huge entity to make a point, but why should a bunch of small business owners suffer for it?" The question of who-or-what took down a Website can become a particularly thorny one. If the culprit is a hardware or software failure, it can often take days or weeks before a full damage report emerges—that is, if the company running the Website doesn't manage to sweep the whole thing under the proverbial rug. Even when a Website is deliberately attacked, the chain of events leading to that attack can remain frustratingly opaque even after a particular hacker or collective takes responsibility. On Sept. 4,
hackers associated with AntiSec
claimed to have stolen more than 12 million Apple Unique Device Identifiers (UDIDs) for iOS devices from an FBI agent's laptop. In a Pastebin posting, those attackers included download links to what they claimed were 1 million of those IDs. But the FBI claimed that no such attack had taken place, and Apple denied giving the agency the UDIDs. A week later, on Sept. 10, Florida-based iOS app developer Blue Toad
publicly took responsibility
for the UDID dataset, which they claimed was a 98 percent match for the one posted by the hackers. "As soon as we found out we were involved and victimized, we approached the appropriate law enforcement officials, and we began to take steps to come forward, clear the record and take responsibility for this," Blue Toad CEO Paul DeHart
told NBC News
. But with the evolving GoDaddy situation, it could take some time to ascertain an exact cause.
Images: Twitter