[caption id="attachment_13690" align="aligncenter" width="578"]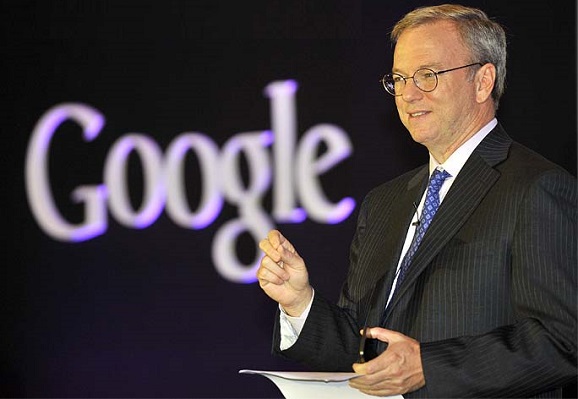 NSA 'oversteps' of its authority need to be addressed, Google chairman Eric Schmidt said.[/caption] Reports that the National Security Agency (NSA) hacked into datacenters owned by Yahoo and Google indicate behavior that is "outrageous" and possibly illegal,
Google Executive Chairman Eric Schmidt told the Wall Street Journal during an interview in Hong Kong
. The NSA reportedly subverted a foreign telecommunications provider that allowed it to hack into routers that served as part of the direct data-synchronization network among datacenters owned by each of the two massive search providers, according to documents provided to
The Washington Post
and U.K.'s
The Guardian
by
whistleblower and former NSA contractor Edward Snowden.
An infographic published Oct. 30 by the
Post
shows data flows among
Google datacenters, as well as where the NSA allegedly attacked them.
The taps, about which Yahoo and Google professed ignorance, allowed the NSA to collect more than 181 million documents during just one 30-day period that ended in January, the documents showed. The agency has denied that it hacked those datacenters and that it did anything illegal. "NSA conducts all of its activities in accordance with applicable laws, regulations, and policies—and assertions to the contrary do a grave disservice to the nation, its allies and partners, and the men and women who make up the National Security Agency," according to an NSA statement released last week. Even before the expected Congressional investigations get underway, however, a coterie of U.S.
intelligence officials are already telling Congress that the U.S. should keep whatever data the NSA
collected, regardless of the circumstances under which it was acquired, according to the
Post
. The hack, if reports about it are true, are "perhaps a violation of law but certainly a violation of mission," Schmidt said. The incident shows "the steps that the organization was willing to do without good judgment to pursue its mission and potentially violate people's privacy," he added. "It's not OK." Hacking the datacenter connections of U.S.-based companies clearly oversteps the authority of the NSA, not to mention an inefficient use of resources. "The NSA allegedly collected the phone records of 320 million people in order to identify roughly 300 people who might be a risk," Schmidt insisted. "It's just bad public policy." The series of scandals following revelations about the NSA's phone- and Internet activity-tapping of both foreign and U.S. residents prompted a
raft of efforts from lawmakers and activists in D.C. to rein in the NSA's
behavior and clarify just how far the federal government is willing to go for covert intelligence.
Image: Google, Inc.