[caption id="attachment_10694" align="aligncenter" width="618"]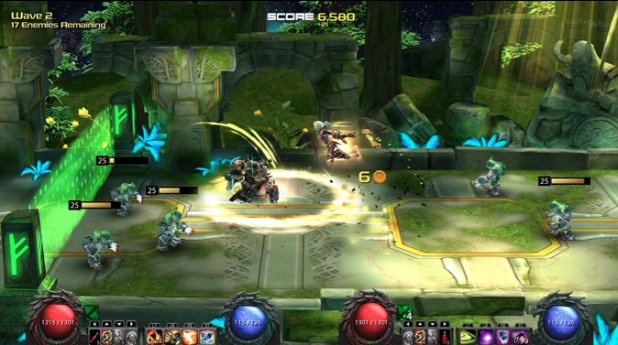 The Ouya console (which features games such as "ChronoBlade," shown here) is the first Android gaming platform on the market.[/caption] Google is developing its own video-game console, according to
a new report in the Wall Street Journal
. The
Journal
, which drew its information from unnamed sources "familiar with the matter," suggested that Google "is reacting in part to expectations that rival Apple will launch a video-game console as part of its next Apple TV product release." Google's console would presumably rely on some variant of Google Android, the mobile operating system that powers a significant portion of the world's tablets and smartphones (it doesn't hurt that Google Play, Android's app storefront, already features an extensive collection of games for download). There's even a precedent for such a system:
Ouya
, a Kickstarter-funded gaming console that retails for $99 and features a growing portfolio of games. Given its reliance on Android, how Ouya fares against well-established gaming companies such as Sony, Microsoft and Nintendo could offer Google some valuable lessons about how to proceed in the space. The next version of Android, codenamed "Key Lime Pie," could arrive sometime this fall and feature a variety of new tweaks and features, including (
it's rumored
) lowered hardware requirements—the better to port the software onto a variety of devices. That could play into Android manufacturers' rumored plans for not only game consoles,
but also "smart watches" capable of running apps
. If Google wants to become a major presence in gaming, it will need to face down Apple, which clearly wants a piece of that market. Earlier in June, Apple released instructions for developing and designing game controllers compatible with iOS 7. "The documentation calls for two different types of controllers," Gizmodo wrote in a
June 13 posting
. "The first is a formfitting gamepad that connects directly to an Apple product, say an iPhone, leaving the screen visible. The second 'extended' gamepad connects wirelessly to a device, say [a] MacBook, and lets you control what's on the screen." Pair those controllers with an Apple TV, and you have a
bona fide
gaming console. But Android and Apple's iOS have (at least so far) served largely as platforms for casual gamers, the kind who want to play an
Angry Birds
ripoff for the few minutes it takes for their takeout order to be called. While some "traditional" console games have begun to appear on iOS—
the latest X-Com title
, for instance—it's impossible to tell whether that's the start of a broader trend. If it is, Android and iOS could pull in the hardcore gamers who made the Xbox and PlayStation such massive hits; if not, Google and Apple could have a very hard time competing against Microsoft, Sony, and Nintendo.
Image: Ouya