[caption id="attachment_15492" align="aligncenter" width="600"]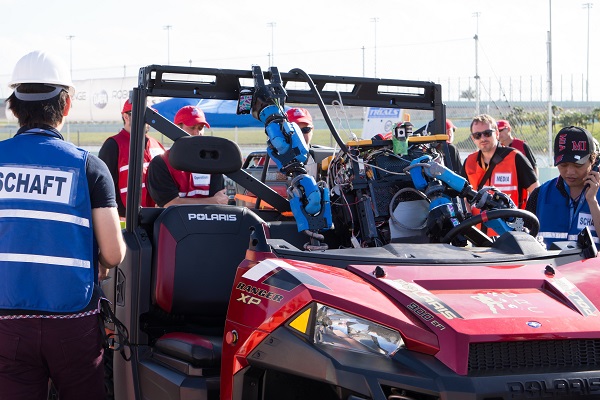 Members of Japan's Team Schaft prep robot HRP-2 for the driving competition.[/caption] A 4-foot, 7-inch semi-autonomous bipedal automaton from a Google-owned maker of commercial robots took first place in DARPA's rescue-robot competition over the weekend. Japanese robot-maker
Schaft, Inc.'s HRP-2
outclassed robots from NASA, Lockheed-Martin, MIT and other leading U.S. teams in a series of eight competitions designed to see which could complete
eight disaster- and rescue-related tasks
in the shortest time and with the smallest amount of help from humans. Schaft was spun out from Tokyo University into a private company, and was eventually acquired by Google along with Boston Dynamics, the U.S.-based robot-maker
Google bought earlier this month.
Boston Dynamics makes military inspired robots, including Big Dog as well as the Atlas humanoid robot. DARPA rules allow software developers to enter the competition using hardware built by a third party. Sixteen teams competed in the
DARPA Robotics Challenge Trials 2013
at Florida's Homestead-Miami Speedway Dec. 20-21, which was designed and sponsored by the U.S. military's
Defense Advanced Research Projects Agency (DARPA).
The event was the third of four rounds of competition that will wrap up late in 2014 in a far more difficult series of challenges designed to both test the robots themselves and push teams to higher levels of development and ingenuity, according to DARPA program manager
Gill Pratt,
who was quoted in DARPA statements describing the event. "The robots are slow and unsteady at this point – much like a one-year-old human in terms of locomotion and grasping abilities and much farther behind that in brainpower," Gill said. "The robots are taking 'baby steps' this year, but their performance will establish a reference point for what we can expect from the teams that return next year for the DRC Finals." The team winning that round will take home a $2 million prize. The goal of the competition is to generate "groundbreaking" research in the development of hardware and software that would allow robots to assist human rescuers during large-scale disasters such as the meltdown of Japan's Fukushima Nuclear Power Plant in 2011, which prompted DARPA to launch the competition. "During the March 2011 Fukushima nuclear meltdown… lethal radiation levels prevented human responders from entering the facility and turning a valve that could have vented hydrogen,"
according to DARPA's explanation of the competition.
"The hydrogen eventually exploded, devastating the facility and surrounding area. If sufficiently advanced robots had been on hand, they might have performed actions similar to those the DRC Trials are testing and averted disaster." Four points were available in each of eight events that required robots to walk across rough terrain, remove debris from a doorway, open a series of doors, climb an industrial ladder, locate and close leaking valves, cut through walls and similar challenges. The most difficult challenge was the requirement that robots
drive a utility vehicle through a set course
and then leave the vehicle cleanly without human intervention.
Team Schaft's 4-foot, 7-inch humanoid, semi-autonomous bipedal HRP-2
scored 27 points out of a possible 32 followed in distant second place by
IHMC Robotics
from the Florida Institute for Human & Machine Cognition, which wrote the software for a
Boston Dynamics model Atlas robot
named Ian.
Carnegie-Mellon University's Tartan Rescue
team came in third with its CHIMP (CMU Highly Intelligent Mobile Platform).
One of two entries from NASA took fifth place;
the other failed to score any points at all. Defense giant
Lockheed-Martin's Team Trooper took eighth place,
behind three university teams, including MIT, CMU and Worcester Polytechnic Institute. Photos and video of the
DARPA robotics competition are available in this gallery.
The final competition is scheduled for December 2014.
Image: DARPA