Google's launched a trial of its biggest push so far into social networking:
Google+
. It's a lot like Facebook but with a lot more privacy.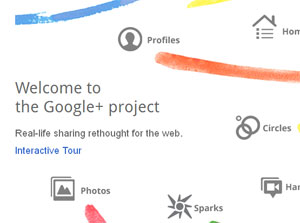 The Google+ Project lets people build an online community, share and discuss status updates, and share links and pictures. However, Google hopes to distinguish itself from Facebook by orienting the networking around small groups such as relatives, work colleagues, college roommates and hiking friends. In essence, this is a more private social network than Facebook, which has been heavily criticized for its lack of user privacy, like its recently added facial recognition feature. In
a blog post
Vic Gundotra, the senior vice president who presides over Google's social-networking initiatives, said Google+ is about "fixing" the "awkwardness" of social media. Google+ allows users to have video chats with multiple friends simultaneously. It also features a service it calls "Sparks," which suggests articles to read and videos to watch based on what it knows about your interest. "Huddle" lets users group text or send messages to multiple contacts at once. In May, former Google CEO Eric Schmidt
said
his biggest mistake at the helm of Google was that he didn't react quickly and effectively enough to Facebook. Google attempted to play catch up in the social media space through Orkut and Buzz, but both were considered failures. Google is playing it safe now and is adhering to its beta tradition with its Music Beta by Google service by only allowing a select group of Google users to use Google+, who will soon be able to invite others. That same month, 180 million people visited Google sites, including YouTube, while 157.2 million visited Facebook, according to comScore. However, Facebook users looked at 103 billion pages and spent an average of 375 minutes on the site, while Google users viewed 46.3 billion pages and spent 231 minutes.