[caption id="attachment_13526" align="aligncenter" width="500"]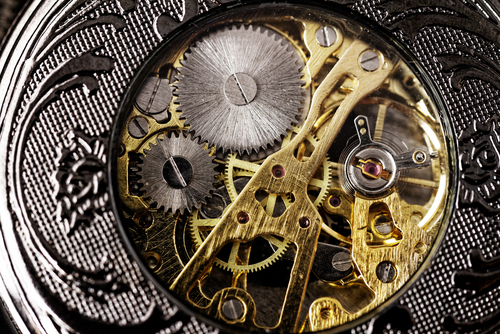 Note: Yelling directions at your current wristwatch will do absolutely nothing except convince everyone else you're crazy.[/caption] Google could beat Apple to the punch when it comes to producing "smartwatches." According to
The Wall Street Journal
, which drew its information from the always-popular anonymous sources "familiar with the matter," the search-engine giant is in the later stages of development on a timepiece that runs Google Android. The hardware will reportedly feature Google Now, a voice-activated digital assistant designed to answer natural-language questions and provide directions or make recommendations. The
Journal
suggested that, in addition, the timepiece could include the ability to communicate with other mobile devices in the vicinity. The big questions are whether Google's offering will feature the long battery life that people expect from a watch, and how much such a device will ultimately cost. Google has demonstrated interest in the wearable-electronics market for quite some time. Google Glass, its augmented-reality headset, drew considerable buzz when it first appeared last summer; the device feeds information to wearers via a tiny screen embedded in one of the lenses, while a built-in camera can record still images and video. Google remains tight-lipped about a Glass release date, although most company-watchers and analysts believe it will be sometime in 2014. If Google wants to build out its wearable-electronics portfolio beyond Google Glass, a "smartwatch" would constitute a logical next step. But Google may also face some significant competition in that category from longtime rival Apple. For months, rumors have circulated that Apple is
hard at work on an "iWatch."
Earlier in 2013,
The Verge
(also citing anonymous sources) suggested that the company had "chosen to rework the full iOS to run on the watch instead of building up the iPod nano's proprietary touch operating system," but failed to detail any possible features; that followed an article in
The New York Times
that stated an Apple timepiece was in the works. In the meantime it's anyone's guess (outside of Apple's executive suite, of course) as to when an "iWatch" will actually arrive on the open market; Google could very well win that race. There's ample reason for companies to invest in the research and development of such devices: according to several analysts, "smartwatches" could prove a lucrative market. ChangeWave Research (a service of 451 Research) interviewed 1,713 North American respondents in March and found that 5 percent were "very likely" to buy an "iWatch," with another 14 percent indicating they were "somewhat likely" to do so. That same month, Citigroup analyst
Oliver Chen told Bloomberg
that an "iWatch" could earn as much as $6 billion a year, a sizable fraction of the $60 billion global timepiece market. Those billions are more than enough reason for Google, Apple, and other players to experiment with augmented timepieces. But will such devices develop into a niche industry, or take off like smartphones?
Image: Nneirda/Shutterstock.com