In a quest to encourage creative programming, find new talent and develop more startup opportunities, an increasing number of nonprofit and for-profit organizations are funding formal coding competitions with cash prizes.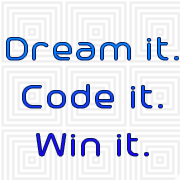 The latest entry into the competitive coding scene is the nonprofit
Dream it. Code it. Win it.
, sponsored by The MIT Club of NY, the MIT Enterprise Forum of NY and TradingScreen, Inc. The competition, which offers cash awards for the most creative applications, is for full-time students, 18 years or older, who are attending an accredited institution. The contest
launched
on
Facebook
on January 9 and will be open for three months. Social media voting and a panel of judges will select the finalists, who'll then be invited to present to a live audience and group of entrepreneurs, CEOs and VCs at an event in the spring. The heart of the program is the concept that the art and design elements of STEM are inadequate, and that without building them into applicable areas of study, the U.S. won't be able to fill the more than 700,000 tech jobs anticipated to open up in the coming years. In a statement, Cristina Dolan -- TradingScreen's head of content, communities and communications and an MIT alumna -- said the organizations' goal is to reward creativity and diversity among programmers and programs. "This orientation is critical to integrate new people, perspectives and skill sets that seem underrepresented in programming at the moment." Quoted on
Slashdot
, TradingScreen spokesperson David Zweifler also noted that the amount of prize money, which was originally set at $30,000, rose to $50,000 due to additional donations from new sponsors. Clearly, the ideas behind the contest are hitting the right note. It will be interesting to see if the Dream It. Code It. Win It. mandate can be met. While championing creativity and diversity is laudable and important, it would be unfortunate if the majority of applicants look the same and come only from computing programs we're already familiar with.