[caption id="attachment_14653" align="aligncenter" width="618"]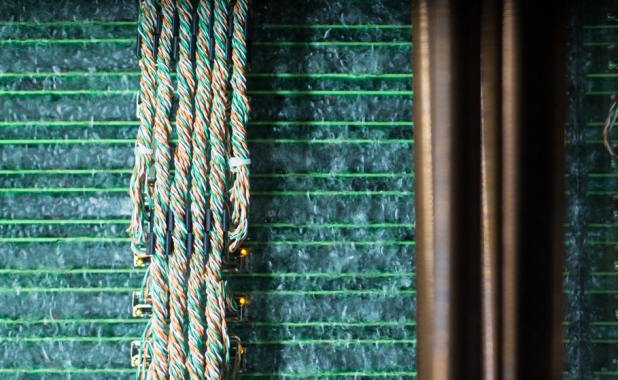 Datacenter blades in cooling liquid help ASICMINER process even more Bitcoin.[/caption] Will
Bitcoin
's value plunge from its current
$1,000-plus valuation
, or will future traders wish they'd bought into the crypto-currency at such a low price-point? As Bitcoin's value continues to spike, that's rapidly becoming a multimillion-dollar question—and in the meantime, Bitcoin miners are doing everything in their power to mine new Bitcoins while the market's hot. Speaking of "hot," at least one Bitcoin mining concern has resorted to using "open bath immersion" technology in order to keep their datacenter blades cool. That mining entity, known as ASICMINER, set up shop in the Kwai Chung industrial building in Hong Kong,
according to Bitcointalk
(hat tip to
The Verge
for the link). The Bitcoin mine features top-of-the-line pumps and cooling equipment; the blades are loaded inside liquid-filled containers that not only maintain the hardware at an optimal temperature, but also keep the facility far more quiet than a traditional datacenter. "This cooling technique is of the [planet's] most advanced," is Bitcointalk describes the system. "Same technique are applied for super computer systems. Through the usage of immersion cooling, calculating density can reach far beyond air cooling system." Every tank in the facility accommodates 92 blades at the moment. "Each 200cc liquid, can afford up to 4kw mining power. Each cooling pipe can afford the power consumption of the 25kW, a liquid tank can be installed 4 sets of cooling pipes." The setup features multiple redundancies, and an administrator can monitor current conditions via an iPhone. When it comes to mining Bitcoin, speed is of the essence: for professional miners, that means the latest in datacenter technology, set up to remain running no matter what. Once derided as an underground currency for drug dealers and other nefarious characters (owners can trade it in relative anonymity), Bitcoin is beginning to enter the mainstream. Although venues where one can spend the currency remain relatively few in number, you can still use it to buy food and other staples, or even
head into space aboard Virgin Galactic
(once it begins taking passengers on sub-orbital flights in 2014). But whether its price will crash in coming months is another question entirely.
Image: Bitcointalk