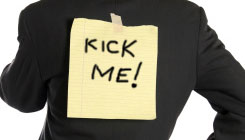 This gem on HP's rush hire of Meg Whitman as its new CEO comes
from our friends at Gawker,
with a wonderfully descriptive headline:
Worst Politician Ever to Run Worst Tech Company Ever
.
Hewlett Packard, worst run tech company of the millennium, has found a solution to its long history of wasting obscene amounts of money: Install as CEO Meg Whitman, who spent a record breaking $43 per voter to lose the California gubernatorial election. Brilliant. Apotheker is being pushed out after squandering HP's $1 billion acquisition of smartphone maker Palm. Apotheker replaced Mark Hurd, who was pushed out after squandering money compensating a former soft core porn star. And Hurd of course replaced Carly Fiorina, who squandered $25 billion buying Compaq, a personal computer maker.
Gawker's not the only outlet casting a skeptical eye on Whitman's hiring.
IT World's Chris Nerney
argues that "...being a 'technology visionary' as chief executive of an online auction company isn't a transferable skill" to running an enterprise-technology company. ComputerWorld's
Richi Jennings chimes in
to say the appointment is "the stupidest idea in months." He call Whitman "the woman who oversaw the systematic destruction of billions of dollars of shareholder value." For a street-eye view, a
Wall Street Journal community poll
says most think she's the wrong choice. Of course, HP's new executive chairman, Ray Lane
, defended the board's decision
. Whitman, he says, has the skills necessary to address three critical issues faced by the company: getting the executive team to work together, improve operations, and improve internal and external communications. Well. We'll see.