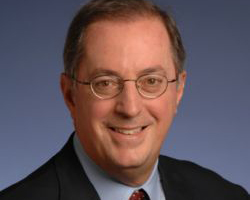 Intel CEO Paul Otellini informed the company's board that he plans to retire in May at the company's annual shareholder meeting. Apparently, the news caught the board off guard. While he formally informed the board last Wednesday, any attempts to get him to stay didn't pan out. Finally, Intel made the news public yesterday. This puts plans for an orderly transition onto a hyper-fast track. With the shareholders meeting scheduled for May 16, that leaves six months to name a successor.
Intel Inside
"Intel has always home-grown their CEOs, and as much as they want to be a player in mobile, they still need someone who understands computers," Jon Holman, president of executive search firm The Holman Group, told me. Intel says it plans to look both internally and externally for Otellini's successor. The chipmaker offered up a hint regarding prospective internal candidates by promoting three folks to the rank of executive vice president: Renee James, head of Intel's software operation; Brian Krzanich, chief operating officer and top dog for worldwide manufacturing; and Stacy Smith, chief financial officer and corporate strategy director.
Intel Outside
"If they're going to go to the outside, I think it's more likely to be a computer guy, maybe someone from IBM, or someone from the phone [industry], but not [the] phone chip side like the American who runs Nokia, Stephen Elop," said Holman. "But my bet would be an internal promotion." That said, Intel is facing a major battle for its future. Every day, there's talk of smartphones and tablet computers becoming the new consumer computing devices, and we've all seen how consumer adoption is infiltrating into the enterprise. Under Otellini, Intel did deliver chips for smartphones and tablets, but its mobile device market share still lags far behind rival Qualcomm with its Snapdragon processors. Snapdragon is in smartphones running Windows 7 and 8, even though Intel has been Microsoft's main partner in the PC arena. If the chip giant were to pick up someone from the phone industry, as Holman suggests, former Motorola Mobility CEO Sanjay Jha is available. The Jha stepped down from the mobile phone maker earlier this year, after its acquisition by Google closed. And, by the way, he was once chief operating officer and president of Qualcomm CDMA Technologies. Wall Street analysts have their bets on potential replacements for Otellini. Ross Seymore, a Deutsche Bank Securities analyst, noted Monday that Pat Gelsinger, CEO of VMware, could be a candidate. "He was previously CTO and head of the Digital Enterprise Group at Intel," Seymore said in a report. But he also noted: "Intel has historically formed its senior leadership team through promotions within its own ranks, and we believe it will follow this precedent in naming Mr. Otellini's replacement." Still, despite Intel's history of hiring CEOs from within, four (out of 10) directors elected to the board since Otellini's 2005 arrival may be willing to break with tradition. After all, new faces often bring new perspectives to a company's management, including questions on "traditional" approaches.
Business Pressure
Earlier this year, Intel warned that its third quarter wasn't shaping up as it had expected and lowered its revenue guidance. It cited softer-than-expected PC sales to the enterprise market and slowing demand from emerging markets. Meanwhile, overall trends in smartphone sales, which accounted for nearly 40 percent of total mobile phone sales, soared 46.9 percent in the third quarter year-on-year, to 169.2 million units shipped, according. And therein lies the challenge: Intel's traditional market -- the PC -- is by all indications being supplanted by mobile devices, where Intel isn't a powerhouse. That alone is undoubtedly giving its directors food for thought as they look for the company's next CEO.