[caption id="attachment_10452" align="aligncenter" width="618"]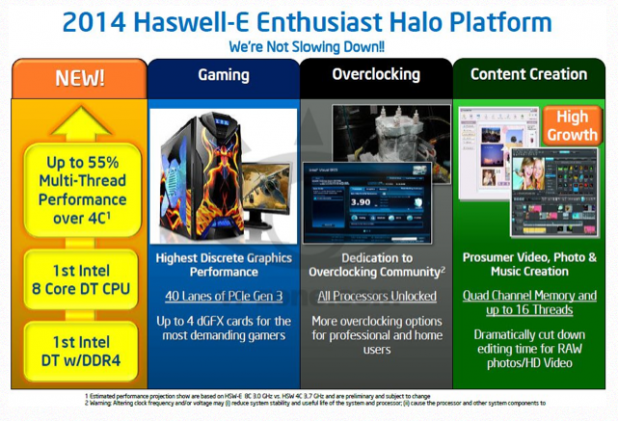 Leaked slide hinting at Intel's processor roadmap.[/caption] A leaked slide-deck details the roadmap for Intel's Haswell and higher-end Broadwell processors, suggesting that the latter will not succeed Haswell in early 2014 (as expected by many Intel watchers). Instead, Intel will release the "Haswell-E" early next year,
according to VR-Zone
. The chip will feature eight cores in place of four, making them Intel's first 8-core processors. The quad-core, graphics-intensive Haswell processors are the fourth generation of Intel's Core processors, succeeding the Sandy Bridge and Ivy Bridge chips. The leaks, posted on
an Italian blog dedicated to technical data on Intel and AMD processors
, suggest Intel will release a wider array of Haswell chips in two waves: the first in the third quarter of this year, followed by another in the second quarter of 2014. This unofficial roadmap has Intel releasing the Haswell LGA2011 chipset for mobile computers in the third quarter of 2013, while the Core i-series desktop chips (released last week) will be refreshed in the second quarter of 2014. Leaks also suggest Intel has pushed off the release of its "Broadwell" processors (a 14nm version of the 22nm Haswell architecture) until very late 2014 or 2015. Broadwell appears to be in line as the next major desktop processor architecture, while the Haswell chips will evolve into editions designed almost exclusively for laptops and other mobile computers,
according to TechEye
. Along with the Haswell-E line, Intel will release the Wellsburg line of motherboard chipsets, which could offer Intel's first support for quad-channel DDR4 memory, delivering bandwidth 50 percent greater than DDR3 memory. Haswell-E is designed with a slightly different configuration of Haswell's LGA 2011 socket called the LGA 2011-3, which is a bit more efficient than the previous version, according to VR-Zone. The combination of Haswell-E and Wellsburg could deliver screaming performance compared even to current Haswell versions—with a small catch. The system may run so hot that system vendors will need to majorly upgrade their motherboards' cooling systems.
Image: VR-Zone