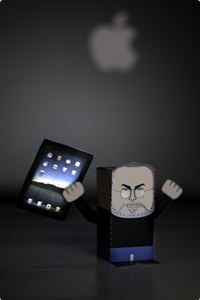 Apple's upcoming iPad and iPhone could boast quad-core processors, an upgrade from the 1GHz dual-core A5 processor currently running on iPad 2 and iPhone 4S. According to
9to5Mac
, the processing-core management software has been updated in the latest iOS 5.1 beta, and a new reference, "
/cores/core.3
," was added. The blog went on to explain that core references in iOS starts at 0, meaning a single-core processor is referred as "
/cores/core.0
" -- with the number increasing in proportion to the number of cores. "
core.3
" would therefore be referring to a quad-core processor. A code reference by itself wouldn't mean much, but with rumors that Apple had already started working on the production of A6 chips (by none other than Samsung), and that the upcoming iPhone is being tested with iOS 5.1 beta internally, it's entirely plausible that the iPad 3 and iPhone 5 could ship with quad-core processors.
Most Android OEMs Going Quad-core in 2012
Android has taken the lead in going quad-core for tablets, and chances are high that it'll beat iOS on the smartphone front too. In late 2011, Asus released the first Android tablet powered by Nvidia's Tegra 3 quad-core processor, called the Eee Pad Transformer Prime. Other OEMs, including Acer, Lenovo, HTC and Samsung, are reported to be gearing up to release their own quad-core tablets too. Some of these could be released in the next few months. On the smartphone front, China's Meizu has confirmed that a quad-core version of its Meizu MX smartphone will be released May this year. Not too far away, rumor has it that Taiwan-based HTC will be showing off several quad-core smartphones as early as February. A refresh in the company's offering is much needed, with its profits going in the opposite direction comparing to the thriving Samsung in Q4 2011. In fact, it was HTC's first decline in two years, after peaking in Q3 2011 in terms of profits. With everyone and their brother racing to join the quad-core bandwagon, Apple's plan to upgrade the processors of its iDevices (if true) isn't at all surprising. It's true that Apple doesn't always get obsessed with hardware specifications, but it had made an exception with its latest iPhone 4S. Other than Siri, the two other things that separate the iPhone 4S from its predecessor are the dual-core A5 chip and 8-megapixel camera. Although the upcoming iPhone 5 is expected to sport an entirely new design, a boast in processor speed wouldn't hurt. Photo credit:
Jesus Belzunce