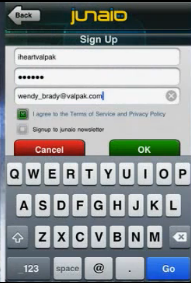 Earlier this year, German viewers of the popular science show
Galileo
participated in a new form of interactivity with their TVs. Using a free app called
Junaio
, an augmented reality browser, they answered multiple choice questions by pointing their smartphone cameras at the screen. The app uses image recognition software to know if the viewer pointed at the correct answer. Instant feedback on their phone told them whether they got it right, and the show displayed how they scored against others. "Viewer polling is one thing," said Peter Meier, CTO and developer of Junaio. "Another idea could be to offer films or documentaries based on the audience's spontaneous choice. Or to make additional information available, such as a chef's recipe, and transmit it at a viewer's request directly onto his smartphone." For years interactive TV has been a dream of advertisers for years, but it was far too expensive to risk the cost of deployment. For interactivity to succeed, all the pieces had to be in place -- the set-top box, the software and the willing consumer. And it's that last piece, the willing consumer, which may make this latest incarnation work. While the technology may have been around -- in one form or another for a generation -- asking consumers to interact with their TV and potentially reveal private data is less of a concern for the generation that's never used a phone booth, often share revealing photos on Facebook, and have no problem tweeting about their recent indiscretions. When viewers point their phone at the screen, they reveal information about themselves, maybe more than they realize, like where they are, what they know. Most of all, they're showing they're engaged. Advertisers are keenly interested at this new direct relationship between consumers and products.
ValPak
, a direct marketing firm, is already using the app for location-based coupon delivery. Augmented reality company Maier
demonstrated
an advertising piece similar to Google's Adsense at conference last year. If the test run on
Galileo
is any indication, people are ready for the interactivity. Ratings of the show spiked 14 percent in the 14 – 49 demographic.