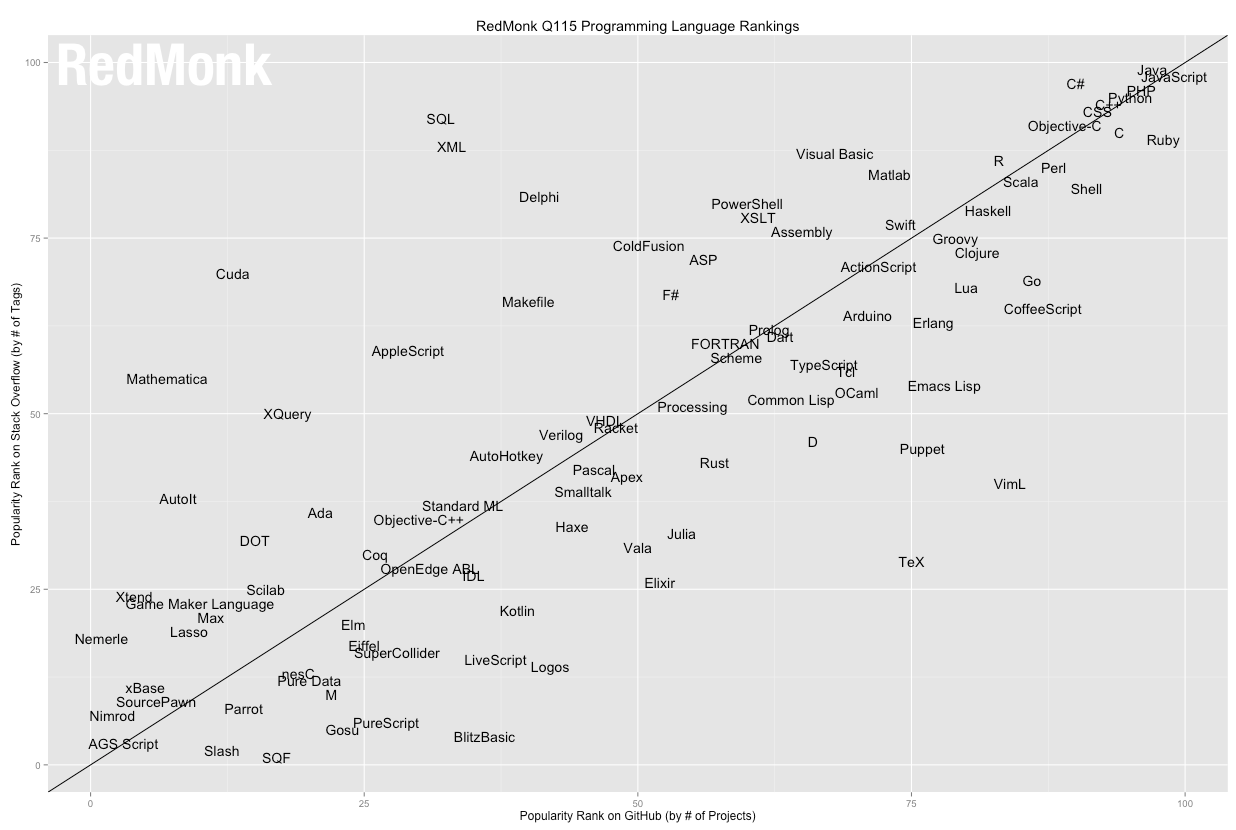 Developers assume that
Swift
,
Apple's
newish programming language for
iOS
and
Mac OS X
apps, will become extremely popular over the next few years. According to new data from RedMonk, a tech-industry analyst firm, Swift could reach that apex of popularity sooner rather than later. While the usual stalwarts—including
JavaScript
,
Java
,
PHP
,
Python
,
C#
,
C++
, and
Ruby
—top RedMonk's list of the most-used languages, Swift has, well, swiftly ascended 46 spots in the six months since the firm's last update, from 68th to 22nd.
Check out the latest developer jobs.
"When we see dramatic growth from a language it typically has jumped somewhere between 5 and 10 spots, and the closer the language gets to the Top 20 or within it, the more difficult growth is to come by," RedMonk wrote in an
accompanying blog posting
. "Given this dramatic ascension, it seems reasonable to expect that the Q3 rankings this year will see Swift as a Top 20 language." RedMonk pulls data from GitHub and Stack Overflow to create its rankings, due to those sites' respective sizes and the public nature of their data. While its top-ranked languages don't trade positions much between reports, there's a fair amount of churn at the lower end of the rankings. Among those "smaller" languages, R has enjoyed stable popularity over the past six months, Rust and Julia continue to climb, and
Go
has exploded upwards—although
CoffeeScript
, often sited as a language to watch, has seen its support crumble a bit. Here are RedMonk's top 20 languages:
1. JavaScript 2. Java 3. PHP 4. Python 5. C# 5. C++ 5. Ruby 8. CSS 9. C 10. Objective-C 11. Perl 11. Shell 13. R 14. Scala 15. Haskell 16. MATLAB 17. Go 17. Visual Basic 19. Clojure 19. Groovy
A more intensive look at RedMonk's data is
available on its blog
.
Upload Your ResumeEmployers want candidates like you. Upload your resume. Show them you're awesome.
Related Articles
Image: RedMonk