[caption id="attachment_11353" align="aligncenter" width="600"]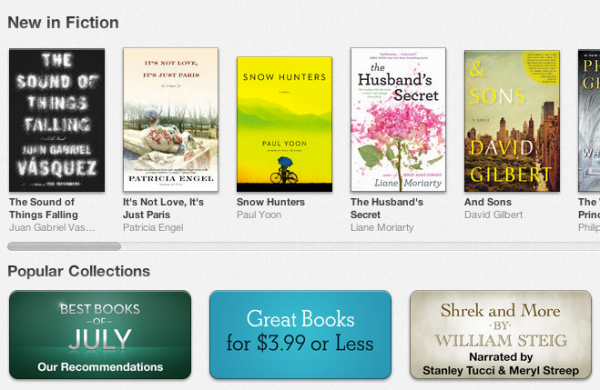 Apple will continue to sell e-books.[/caption] Now that Apple's been convicted of trying to
fix e-book prices in the United States
, the U.S. Department of Justice wants to ensure the company never tries anything similar again. The agency, in conjunction with 33 state attorneys general, has submitted to the federal court a "proposed remedy" that would require Apple terminate its existing agreements with five major book publishers (Hachette Book Group, HarperCollins, Macmillan, Penguin Group, and Simon & Schuster). In addition, Apple would have to "refrain for five years from entering new e-book distribution contracts" that would restrain it from "competing on price," according to a document posted on
the Justice Department's Website.
But as the late-night infomercials say, that's not all: Apple is also prohibited from serving as a "conduit of information among the conspiring publishers" or doing something dark and retaliatory against any publisher who refuses to sell e-books on
agency terms
. On top of
that
, Apple apparently can't negotiate agreements with content suppliers (that means e-books, music, movies, television shows, and pretty much anything else) that are "likely to increase the prices at which Apple's competitor retailers may sell that content." And for the next two years, Apple must allow other e-book retailers to provide links from their iOS apps to their e-bookstores, "allowing consumers who purchase and read e-books on their iPads and iPhones easily to compare Apple's prices with those of its competitors." In essence, the Justice Department is proposing pretty much a total rollback of everything Apple's done in the e-books market over the past few years. The point about Apple allowing Amazon, Barnes & Noble and other retailers to include e-bookstore links within their respective apps is a particularly big one, as Apple fought quite publicly to remove those links; as a result of that inclusion, which would make it far easier to purchase and download Kindle or Nook books directly onto an iPhone or iPad, Apple's own e-bookstore could face increased competition within the iOS ecosystem. The U.S. Justice Department had previously settled with the five publishers over the alleged price-fixing. Earlier this year, Macmillan CEO John Sargent claimed in
a letter to authors and agents
that his company settled with the agency "because the potential penalties became too high to risk even the possibility of an unfavorable outcome." But Apple was willing to fight the issue out in court—the U.S. District Court for the Southern District of New York, to be exact.
It lost
. Now come the penalties.
Image: Apple