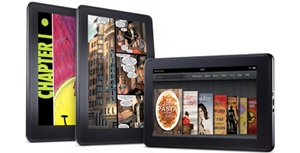 Though Apple's iOS still dominates the affection of mobile developers, Amazon's
Kindle Fire has ignited plenty of interest.
Research firm IDC and Appcelerator, a maker of cross-platform development tools, polled more than 2,100 developers on their choice of platform. Computerworld quotes Scott Schwarzhoff, Appcelerator's vice president of marketing, as saying:
Basically, half of the developers in North America say they're very interested in the Kindle Fire. That's remarkable for a new device, and about the same level of interest as for the iPad just before its launch.
Amazon shipped the Fire on Monday, a day earlier than planned. It met
mixed reviews.
The Samsung Galaxy Tab
was the only Android-powered tablet that drew more interest than the Fire. Some 91 percent of developers were "very interested" in working with the iPhone, while 83 felt that way about Android phones. Those numbers have changed little from previous surveys. Though just 38 percent expressed interest in Windows Phone 7, that was an increase of 8 percentage points since June. RIM dropped 7 percentage points to 21 percent. The report credits
Microsoft's partnership with Nokia
for the increased interest, noting that Nokia's announcement of the
Lumia Windows Phone 7
last month also drew high marks. Meanwhile, Ars Technica says that in trying to woo developers, Microsoft has issued a guide for translating iOS APIs to work on Windows Phone. For those looking to get into mobile app development, Dice blogger Leslie Stevens-Huffman offered
this advice
from Silicon Valley Code Camp.