[caption id="attachment_11542" align="aligncenter" width="618"]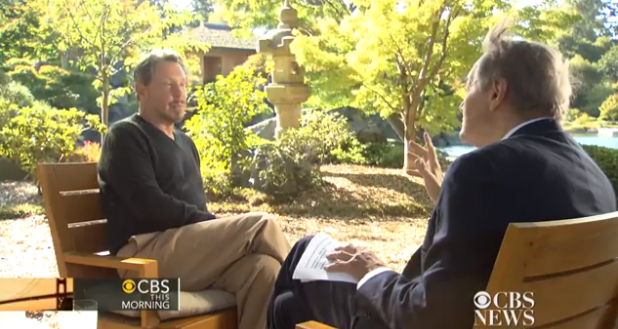 Ellison (l) tells it like he thinks it is.[/caption] Oracle CEO Larry Ellison thinks that Apple will collapse without Steve Jobs at the helm. In a televised interview with CBS News,
scheduled to air August 13
, Ellison called the deceased Jobs "brilliant" and compared him to iconic creators such as Thomas Edison and Pablo Picasso. When asked about Apple's future now that Jobs is dead, Ellison didn't hold back: "We already know, we saw—we conducted the experiment, it's been done." Raising his hand above his head, presumably to indicate the rise of Apple's fortunes during Jobs' initial reign, Ellison said: "We saw Apple with Steve Jobs." Then he lowered his hand: "We saw Apple without Steve Jobs." In other words, the period following Jobs' ouster, when the company's revenues declined and it launched whole portfolios of consumer products that failed. "We saw Apple with Steve Jobs," Ellison continued, raising his hand above his head again—this time, to suggest that incandescent period following Jobs' return to the company, when it released the iPod, iPhone, iPad, and a variety of bestselling PCs. "And now, we're going to see Apple without Steve Jobs," he finished, and his hand fell. Ellison isn't alone in his sentiments. Some days it seems as if half the analysts on Wall Street and three-quarters of the entrepreneurs and developers in Silicon Valley think Apple is the
RMS Titanic
, tilting upward in preparation for its plunge to the bottom of the ocean. That opinion isn't built on any one financial metric—Apple continues to breezily sell millions of iPhones and iPads and MacBooks every quarter—so much as a growing perception that the company's most innovative days are well behind it. Apple's stock plunged in late 2012, only to stabilize in mid-summer in the $450 range. Apple is reportedly working hard on a portfolio of new products, including a much-rumored timepiece, but the actual release dates of that hardware and software are an open question. Until then, expect the doomsayers to continue their morbid chatter. Ellison once sat on Apple's Board of Directors (he resigned in 2002, claiming schedule concerns). One wonders what the current Board thinks of his comments.
Image: CBS News/YouTube