It seems as if there's an app for everything these days. Want to send someone a message that self-destructs in five seconds? At least a dozen apps will help you out with that. Want to play a game with a kid on the other side of the world? The Google and
Apple
app stores offer hundreds of options for making that happen.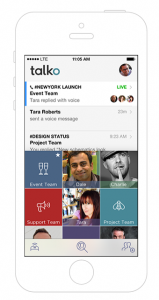 With all the apps and baked-in functionality available on smartphones, it's sometimes easy to forget that the devices can also make phone calls.
Talko
, a new
iOS
app from former
Microsoft
Chief Architect
Ray Ozzie
, is meant to revive voice as the primary means of communicating with others while on the move.
Click here to find app development jobs.
Think of Talko as a conventional phone on steroids: Not only can you use it to talk to people in real time, it will record calls for later sharing, the latter useful for conference calls in which all interested parties can't participate at the time. Users can also send voice memos to one another, as well as photos ("By tapping the camera to share as you talk, others will instantly see what you see," is how Talko's website describes it), and organize all their vocal data with tags and bookmarks. "Tapping out short messages can be quick and very effective for 'signaling' and simple coordination, but our over-reliance on these tools will severely limit how we're able to meaningfully connect with those we need and those we love," Ozzie
wrote in a blog posting about the service
. "And for what we need in our new, mobile-centric style of work, this staccato form of communications isn't enough to make us productive. It isn't enough when we need to get things done."
Upload Your ResumeEmployers want candidates like you. Upload your resume. Show them you're awesome.
Ozzie thinks the solution is voice: "There's simply no faster and no more effective way to express essential emotions such as urgency, anxiety, understanding, confidence or trust. Quite simply, amazing things can happen when we just choose to talk." But will smartphone users agree with him? Once you've experienced the ease and convenience of texting five people simultaneously with Messages or a similar app, would you really want to switch back to having long, drawn-out voice conversations? Do younger iPhone users even make calls? The future of Talko rides on questions like those.
Related Articles
Image: Talko