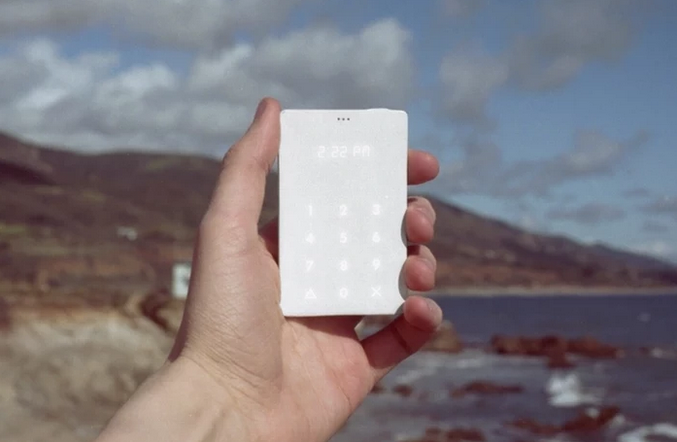 Over the past several years, smartphones have become increasingly sophisticated. A typical iPhone 6, for example, can run hundreds of thousands of apps; serve as a pretty decent document-editor; store dozens of graphically gorgeous games and hundreds of e-books; and, oh yeah, also make the occasional phone call. But what if you didn't want all that? What if you wanted a device so minimal in its functionality and aesthetic, it almost seems high tech? In that case, you might want to consider the Light Phone.
Check out the latest mobile development jobs.
Created by Joe Hollier and Kaiwei Tang, who met at
Google's 30 Weeks Incubator
, the Light Phone is a small white slab of plastic with a dot matrix LED, a SIM card slot, a Micro USB port, a microphone, and a keypad. It comes preloaded with minutes, and an app that allows you to forward calls to it from your smartphone. If the project reaches its
Kickstarter goal
and enters actual production, units should cost around $100. (
Hat tip to TechCrunch
for the original link.) Hollier and Tang wanted to create a device that's used as little as possible. That goal might seem antithetical (why would anyone create a device they don't want people using often?) until you consider that some much larger companies, most notably
Apple
, are attempting a similar thing with the current generation of wearable electronics. Smartwatches such as the Apple Watch are designed for glances and short interactions; activity bands often feature no displays at all. After years of trying to make hardware and software as powerful and all-encompassing as possible, it seems there's a slight movement toward minimalism, in the name of freeing people up to interact with the real world a bit more. In light of that—so to speak—the Light Phone might prove a brilliant idea. And for designers, developers, and everybody else out there interested in starting their own thing, it might pay to consider not how much your product can do, but how little.