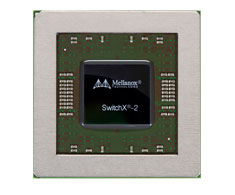 Mellanox Technologies has announced the SwitchX-2, the second generation of its switch silicon optimized for the Software Defined Networking (SDN) market. From a specifications point of view, the SwitchX-2 is similar to the first SwitchX-1, but with a feature set designed for the SDN market: remote configurable routing tables, lossless and congestion free networks, and an SDN-optimized software interface. Mellanox said that it's addressing the emerging market for the broader SDN/OpenFlow market, expected to reach $2 billion by 2016, of which a significant portion will be network infrastructure. As with the first SwitchX, the chip is designed around the Mellanox Virtual Protocol Interconnect technology, which allows InfiniBand, Ethernet and Fibre Channel traffic to exist on a single 'one-wire' fabric. The SwitchX-2 integrates 144 serializers/deserializers (SerDes), which can run at between 1 and 14 Gbits per lane, delivering a total of 4 terabits/second switching capability—half again as fast as the nearest competitor, according to the company. Latency is rated at 170 ns, in part due to integrated L2/L3 congestion management. Specifically, the chip supports 36 4x SDR/DDR/QDR/FDR InfiniBand ports, 36 40/56GbE ports, 64 10/20GbE ports, 24 2/4/8Gb Fibre Channel ports or a combination of port types. Mellanox's switching performance is one reason why the company's FDR 56Gb/s InfiniBand solutions are being deployed with Dell PowerEdge C8000 systems as part of
the Stampede supercomputer
at the Texas Advanced Computing Center (TACC) at The University of Texas at Austin. As a building block for SDN-enabled network infrastructure, switches with high throughput, low latency and low power consumption are expected to be instrumental in realizing the goal of reducing operational expense while enabling data center scalability and flexibility, Rohit Mehra, vice president, of enterprise and datacenter networks at IDC, wrote in a statement. Mellanox said that the SwitchX-2 evaluation board and Software Development Kit (SDK) are available for OEMs. The technology is expected within in its SwitchX-based Ethernet and InfiniBand switches toward the end of the year,
according to Network World
. "Mellanox's SwitchX-2 VPI switch leads the industry with the highest throughput capacity, low latency with nearly zero jitter, as well as advanced SDN interfaces for control and management," David Barzilai, vice president of marketing at Mellanox Technologies, wrote in a statement. "With SwitchX-2, Mellanox provides the most efficient SDN solution for both InfiniBand and Ethernet data centers." Earlier this month, Mellanox's SwitchX line of received a gold certification for Internet Protocol v6 (IPv6) by the Internet Protocol Forum.