[caption id="attachment_13035" align="aligncenter" width="500"]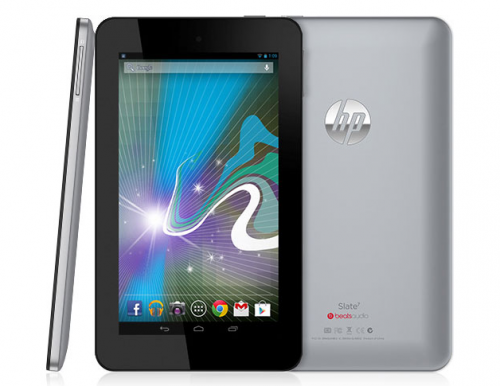 HP's also in the Google Android business, now.[/caption] Hewlett-Packard CEO Meg Whitman told an audience of Wall Street analysts that Microsoft has transformed—in her eyes—from partner to outright competitor. "HP's traditional highly profitable markets face significant disruption," she said,
according to Business Insider
. "We are seeing profound changes in the competitive landscape." As a result, HP has grown closer to Google, which produces the Chrome OS and Android operating systems; the two companies recently announced
an ultra-cheap Chromebook
. And at a time in which Microsoft is pushing hard into the tablet space, HP has devoted considerable resources to building touch-screens that run Android. Whitman's drift from Microsoft has been underway for quite some time. In a midyear earnings call, for example, she alluded to HP's desire to produce "devices that customers want," regardless of the underlying operating system. The anemic state of the PC business—sales of laptops and desktops have steadily declined over the past several quarters—may have accelerated the company's deviation from the
Wintel
path. That's bad news for Microsoft, which built much of its business on licensing its Windows operating system to any hardware manufacturer with the cash. In the past year, however, Microsoft has veered from that longtime plan, following outgoing CEO Steve Ballmer's decision to remake it into a "devices and services company" that builds at least some hardware products in-house. "There will be times when we build specific devices for specific purposes, as we have chosen to do with Xbox and the recently announced Microsoft Surface," he wrote in an October 2012 letter. "In all our work with partners and on our own devices, we will focus relentlessly on delivering delightful, seamless experiences across hardware, software and services." At the time, Microsoft acknowledged that its new strategy could put it at odds with its manufacturing partners. "Surface devices will compete with products made by our OEM partners, which may affect their commitment to the platform," the company wrote in last year's Form 10-K filing with the Securities and Exchange Commission (SEC). Indeed, those OEMs began reacting badly. "We think that Microsoft's launch of its own-brand products is a negative for the whole PC industry," an Acer spokesperson
told Bloomberg
a few weeks after that Form 10-K filing. Now HP's become very public about its problems with its longtime partner. The only question is, who's next?
Image: HP