[caption id="attachment_13222" align="aligncenter" width="618"]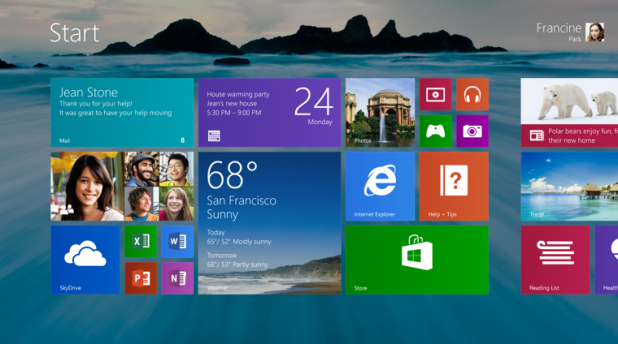 Windows 8.1.[/caption] Microsoft's Windows 8.1 is available for download. This isn't a minor upgrade to Microsoft's latest operating system; in response to vocal criticism over Windows 8's feature set, the company went back and added (or reintroduced) several features, including the Start button, which had gone missing from the original version of the software. With Windows 8.1, users can also boot directly to the desktop, bypassing the Start screen with its brightly colored tiles. Those who like multitasking can now "snap" together several windows side-by-side; the built-in search feature is more comprehensive; and the virtual keyboard includes new shortcuts. Other changes are more cosmetic, such as the total revamp of the Windows Store. But taken in aggregate, the work Microsoft's done here is pretty significant. The question is, are the alterations enough to convince any skeptical users to take a second look? Microsoft hopes so.
According to Net Applications
, Windows 8 owns 8.02 percent of the worldwide market for desktop operating systems, lagging well behind Windows XP at 31.42 percent and Windows 7 at 46.39 percent. Although it reaches the end of its official support in April 2014, Windows XP—originally released in 2001—enjoys enduring popularity in many parts of the world, particularly those in which PCs tend to be older and lower-powered; Windows 7, released near the end of 2009, benefitted from pent-up demand for a new Windows operating system following the anemic response to Windows Vista. But Windows 8 arrived with few inherent advantages. Although it was designed to work with equal facility on PCs and tablets, Windows 8 alienated many users who thought the dual interface—that touch-friendly Start screen, with the "traditional" desktop accessible only by clicking or tapping on a tile—was too unwieldy for their daily needs. And unlike the traditional desktop market, where Windows has dominated for years, Microsoft faced fierce competition from Google and Apple in the mobile-devices arena. If the whole situation wasn't complicated enough, Microsoft decided that Windows 8 would also be the perfect time to abandon its longtime strategy of licensing its software to hardware-manufacturing partners, and start building its own devices—but the resulting tablets, Surface RT and Surface Pro, failed to sell in significant numbers compared to the iPad and other competitors. That's a problem, considering the growing weakness in the laptop and desktop market; any IT giant that wants to prosper—or at least survive the next five years—needs a successful strategy centered on mobility, something that Microsoft hasn't yet managed to achieve. At the same time, Microsoft's OEMs are evolving past the
"Wintel"
dynamic that defined the PC industry for so many years. Earlier in October, Hewlett-Packard CEO Meg Whitman told Wall Street analysts that she considered Microsoft more of a competitor than a partner—and those weren't empty words, considering how HP is building Chromebooks (which run Google's Chrome OS) and Android tablets. Other manufacturers are
producing Chromebooks
and expressing displeasure over Microsoft's
decision to build its own devices in-house
. When all these issues are combined together, it creates a rocky situation that even Windows 8.1 can't solve. But at least longtime Windows users have the Start button back.
Image: Microsoft