[caption id="attachment_4994" align="aligncenter" width="580"]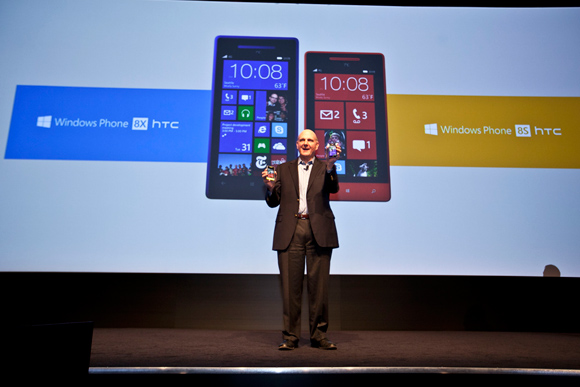 Microsoft CEO Steve Ballmer is betting big on Windows 8 and Windows Phone 8 united in a common ecosystem.[/caption] Microsoft could be aiming for a one-two punch with the launch timing of its two big initiatives, Windows 8 and Windows Phone 8. The company plans on launching Windows 8 with an Oct. 25 press event in New York City, mirroring the one it hosted three years ago for the Windows 7 debut; the next day, Windows 8 devices will presumably hit store shelves around the country.
The Verge
suggested in an Oct. 4 posting that the company will start selling its Surface tablets, which it built in-house, at midnight on Oct. 26. Meanwhile,
another "Save the Date" note to media
suggests that Microsoft will launch Windows Phone 8 in a San Francisco event Oct. 29. (
ZDNet confirmed it
.)
A Boy Genius Report
posting suggested, via an unnamed source, that Microsoft is prepping an in-house smartphone to complement the Surface tablet, something that—if true—has the potential to spark consternation among its hardware partners such as Nokia. Microsoft will presumably use that Oct. 29 event to unveil additional details about the Windows Phone 8 operating system;
the company has indicated
that it's been holding back on some features in order to build extra buzz. Unlike Windows 7 and Windows Phone 7, Windows 8 and Windows Phone 8 share a fairly tight bond: the two new platforms share a kernel, file system, graphics support, and other elements. In theory, apps will port from the desktop/tablet OS to the smartphone OS with relatively little work. Both also share a lot of the same DNA, design-wise, with Start screens composed of colorful tiles linked to applications (Microsoft formerly called this design aesthetic "Metro," before abandoning the name shortly before the launch). The two platforms face some significant risks. While Windows has long held the dominant share of the traditional operating system market, it enters the tablet market as the underdog: Apple's iPad, not to mention the plethora of Google Android devices, won't make penetrating that arena very easy. On top of that, Microsoft's insistence on taking a page from Apple and building its flagship tablet device in-house could dampen its hardware partners' enthusiasm for pushing their own Windows 8 touch-screens, which in turn could weaken the collective strength of Microsoft's competitive foray. On the smartphone side of the equation, Windows Phone never enjoyed significant uptake among consumers or businesses; just like Windows 8 tablets, Windows Phone 8 faces significant competition in the face of Apple's iPhone and a galaxy of Google Android smartphones. The linkage with Windows 8 could allow it to stock a full app store fairly rapidly, but that's entirely dependent on whether Microsoft's succeeded in convincing third-party developers that Windows is indeed a good bet for their time and resources. In other words, expect a massive promotional push by Microsoft at the end of October. But the future is very much uncertain.
Image: Microsoft