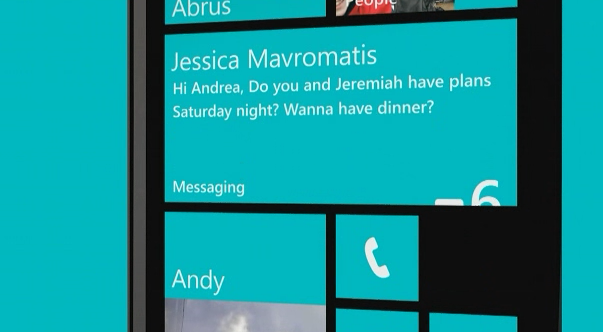 After months of rumors,
Microsoft
whipped the curtain back from Windows Phone 8, the next iteration of its smartphone platform. Windows Phone 8, due later this year, will offer a few key user-interface changes from Windows Phone 7.x, the current iteration. For starters, users will have the ability to adjust the size of the colorful tiles that make up the smartphone's home-screen (and link to cloud apps and other content), allowing a far more customized experience. Windows Phone 8 will also include Near Field Communication (NFC) that not only links to users' cash and credit accounts, allowing them to use their smartphones as an electronic wallet, but also integrates third-party services.
Shared Core
However, those aren't the biggest alterations to the platform. In a June 20 keynote talk at the Windows Phone Summit in San Francisco, Joe Belfiore, corporate vice president of Windows Phone, told the audience that Windows Phone 8 and Windows 8 would have a "shared Windows core."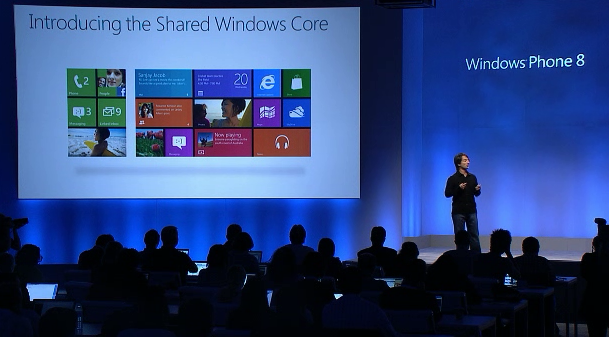 Sharing a kernel, file system, graphics support and other elements will allow developers to port apps from Windows 8 to Windows Phone 8, a transition that Belfiore described as "incredibly easy." In theory, a tight link between Windows Phone 8 and the main Windows platform, the latter currently in use by 1.3 billion people, will bring more apps and attention to Windows Phone, which is currently struggling for adoption in a smartphone market dominated by Apple's iOS and Google Android. The shared core will also allow Microsoft to offer "a wider range of phones at a wider range of capabilities at a wider range of price points," Belfiore added. "Windows Phone 8 will support the latest and greatest hardware." The platform will no longer just support 800 x 480; the new ceiling is 1280 x 760. Internet Explorer 10 will render the same between Windows Phone 8 smartphones and Windows 8 tablets and PCs—for Web developers, that means the same markups in Javascript will carry over between devices. For enterprise users, Windows Phone 8 will support secure boot and encryption, the latter thanks to Microsoft's BitLocker. Nokia's mapping technology, with offline capability and turn-by-turn navigation, will be a prime feature.
Downside for Windows Phone 7 Owners
But for anyone who purchased a Windows Phone 7.x device, there's also a bit of bad news: it won't be upgraded to Windows Phone 8, although apps developed for the latter could apparently run on earlier Windows Phone versions. In other words, if you bought a Lumia 900 yesterday, you'll eventually receive an update (
Windows 7.8, reportedly
) that gives you some Windows 8 features such as the ability to resize tiles; but an upgrade path beyond that point remains unclear.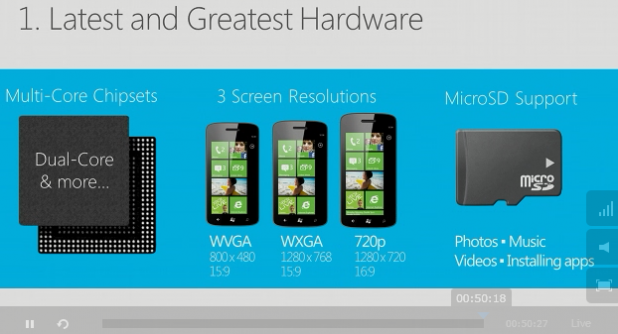 Despite partnerships with prominent hardware vendors such as Nokia (which abandoned its homegrown Symbian operating system in favor of Windows Phone), Microsoft's smartphone platform has failed to gain traction among consumers and businesses. The cause of those anemic sales is up for debate, with some analysts arguing that iOS and Android have left precious little room between them for a third competitor, and others insisting that Microsoft's marketing missteps doomed its mobile efforts early on. Now Microsoft's gone and made a major ecosystem play, linking Windows Phone with Windows 8, both of which lean heavily on the "Metro" interface. During his presentation, Belfiore placed a Windows Phone 8 prototype beside a Windows 8 tablet, to demonstrate interoperability between the two devices; with their application-linked tiles and widgets, the two seemed nearly indistinguishable as separate operating systems. Extending the shared Windows core from smartphones all the way up to powerful desktops represents an extraordinarily risky bet for Microsoft—and whether that move will make Windows Phone a success is a very open question.