[caption id="attachment_3576" align="aligncenter" width="618"]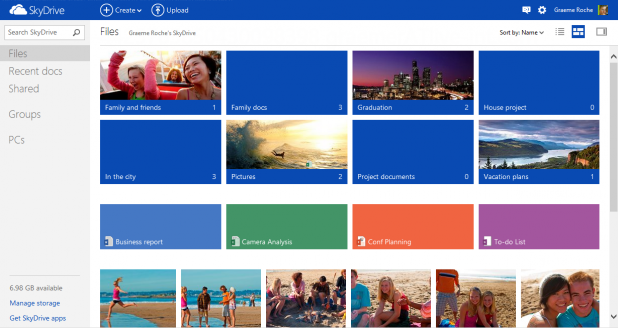 The revamped SkyDrive interface.[/caption] As Microsoft tilts its corporate ship increasingly in the direction of the cloud, it's placing more emphasis on its SkyDrive cloud-storage locker as a hub for users' digital lives. The upcoming Windows 8 offers tight integration with SkyDrive; the new Office saves documents to SkyDrive by default, allowing users to access files on a PC, smartphone or tablet; Windows Phone offers a SkyDrive app for cloud storage on the go. And with that higher profile for SkyDrive comes the inevitable adjustments, feature editions, and revamps.
The newest version is coming out of preview
; it includes updates to SkyDrive for Windows desktop and Mac OS X, which will reportedly roll out over the course of this week. A SkyDrive app for Android will also arrive "in just a few weeks." SkyDrive's revamped home page embraces the same tile-based design aesthetic as Microsoft's other new and upcoming products, including Windows 8 and Windows Phone 8. Microsoft previously referred to that aesthetic as "Metro," but plans on giving it a new name at an unannounced future point. (
Reports suggest
that Microsoft dropped "Metro" in the face of a potential copyright dispute with German retail company Metro AG, although Microsoft itself claims the name was always a temporary one reserved for the product development cycle.) SkyDrive users can flick for a more detailed view of files, including dates modified, sharing status, and size. In terms of features, there's the ability to search within SkyDrive for pretty much any term, including content within Word and other Office documents. Microsoft has also shifted common commands (creating and sharing folders, for example) to the toolbar that runs along the top of the SkyDrive interface. Users can also select multiple files in thumbnail view, rearrange them, and drag-and-drop to the appropriate files and folders: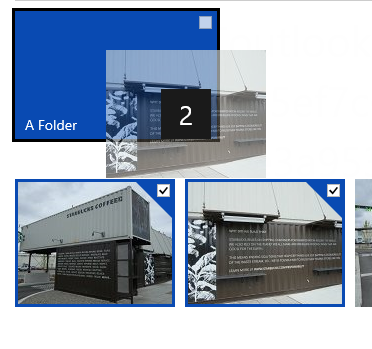 On the developer side of the equation, Microsoft has spent the past several months tweaking the platform in response to feedback, removing any restrictions of types of files that applications can upload to SkyDrive. In addition, the SkyDrive API features a SkyDrive file picker for opening and saving files to the platform. Despite the new features, SkyDrive still faces major challenges from Dropbox, Google Storage, iCloud, and other competitors in the cloud-storage space. For each of these companies, the potential rewards of massive market-share are enormous: research firm Gartner
recently predicted
that consumers will store more than a third of their digital content in the cloud by 2016—a significant jump from 2011, when an estimated 7 percent of consumer content was stored in the cloud. That's a lot of people using a cloud-storage product, and potentially a lot of revenue.
Images: Microsoft