By Doug Bartholomew
The recovery is starting to produce jobs in Silicon Valley, as more than half of CEOs responding to an annual business climate survey said they will expand staff this year as their sales continue to improve. Almost three out of five (58 percent) CEOs at Silicon Valley companies of all sizes plan to add jobs this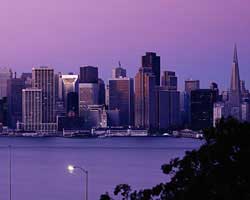 year, according to the just-released annual
Silicon Valley Leadership Group's
(SVLG)
business climate survey
. That figure contrasts sharply with last year's survey, in which 17 percent said they expected to hire people in 2009. The SVLG has more than 300 members; about half responded to the survey. A majority of these companies reported having invested in various green technologies. For instance, more than two-thirds of CEOs participating in the poll reported taking steps to improve the energy efficiency of their data centers.
Tech Giants, Already Expanding, Adding Staff
As the tech sector begins its resurgence, some of Silicon Valley's biggest firms are moving to beef up their staffs to meet renewed demand for software, hardware, networking equipment, and other services. While it's not quite a boom yet, companies such as
Intel
,
Google
,
Cisco Systems
and
National Semiconductor
are in a hiring mode. Always a bellwether of sorts for Silicon Valley business in general, Intel reported plans to conduct its first significant hiring activity in several years. The company plans to add 1,000 to 2,000 new employees this year as chip sales continue to rise. In an announcement earlier this year, Cisco said it plans to add 2,000 to 3,000 workers. According to comments by
CFO Patrick Pichette
in a recent conference call with securities analysts, Google is looking to bulk up its staff "aggressively" throughout this year. The company already hired about 800 new employees in the first quarter. National Semiconductor also is expected to boost staff to meet continued growth. A midsize firm on a fast growth track is
ArcSight Inc
., a developer of software for monitoring threats against IT networks. ArcSight held a jobs fair to fill 50 technical positions earlier this year and is expected to continue expanding in 2010 to handle the cybersecurity needs posed by such trends as cloud computing, digital healthcare records, and smart grid technology.