[caption id="attachment_8897" align="aligncenter" width="500"]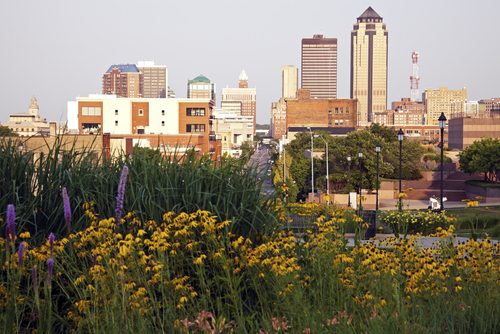 Altoona is located outside scenic Des Moines.[/caption] There's something mysterious happening in Iowa—a massive data center is going up, thought to be the home of a next-generation facility from Apple, Google, or another major provider. The Planning and Zoning Commission of Altoona, a suburb of Des Moines, has approved a 25 percent bump in the proposed size of the three buildings scheduled for construction on the site. The mysterious company has expanded its building plans by nearly 300,000 square feet, for a total of 1.4 million square feet,
reported the Des Moines Register.
To put this so-called "Project Catapult" in context, Facebook's Prineville datacenter (as planned in 2010) totaled just over 300,000 square feet—even after the social network announced plans to double the facility's size. Apple's own facility in Prinevillle, which will be powered exclusively by renewable energy sources, will total about 338,000 square feet. And Apple's Maiden, N.C. facility, one of the largest privately owned data facilities, covers 500,000 square feet and cost about $1 billion. Compare that to the original Altoona site plan, which called for one 350,000 square-foot building and two buildings at 380,000 square feet, and it's clear something big is going on here. Although the exact cost of the proposed data center is really not known, an Associated Press
report from last November
estimated it at $1.5 billion. Altoona was thought to be in competition with Oklahoma to host the facility. And Catapult isn't the only major, mysterious data center in the region. In February, state officials met with anonymous company representatives on Project Oasis, which will possibly result in a 150,000-square-foot facility in Altoona.
The Des Moines Register reported
officials didn't know whether or not Oasis would be operated by a single company, or jointly owned. The value of the project also wasn't known. Oasis is located to the east of the 200-acre Project Catapult site, and north of a $12.5 million, 17,000-square-foot data center that will be built out by Enseva, a colocation firm. According to Enseva, the company decided to build in Iowa because of its cool climate and low power costs, some of the lowest in the nation. Real estate is also cheap. Finally, natural disasters are a much more remote possibility in the region than earthquake-prone California (or even the East Coast, which is pounded by hurricanes on a semi-regular basis). Finally, major fiber hubs cross the state make communications more affordable. So who owns Catapult? In November, city administrators told the Altoona town council that the Catapult owners are close to revealing themselves publicly. But so far, mum's the word.
Image: Henryk Sadura/Shutterstock.com