[caption id="attachment_13509" align="aligncenter" width="600"]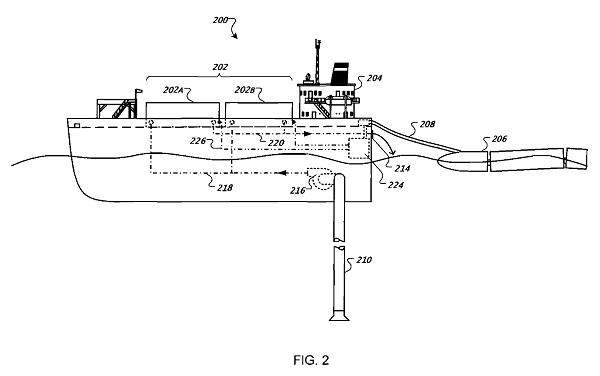 Image from Google's 2009 patent on a floating datacenter.[/caption] Someone is building something in the waters near San Francisco and Portland, Maine, according to CNET, which reports that both floating somethings
"almost certainly"
belong to Google. CNET blogger
Daniel Terdiman reported Oct. 25
that a building made of shipping containers piled four stories high on a barge afloat near one end of the former Navy base at Treasure Island in San Francisco Bay could be the first stage of construction of a Google data center built afloat for easy access to cooling sea water and to power-generating wave action. Google wouldn't respond to calls about the project from Terdiman, and hasn't responded to anyone since. Leasing agreements, information from an unnamed contact attached to the barge project, chatter from locals on Treasure Island and a
patent Google holds on the design for a floating datacenter
all point to Google as the one responsible for "building the massive structure that's in plain sight, but behind tight security," as Terdiman reported. A story by local CBS affiliate KPIX also suggested the barge might be a floating marketing center –
"a kind of giant Apple store, if you will" – dedicated to Google Glass
rather than iThings. One day and a continent away, the
Portland Press Herald reported Oct. 26
that a similar barge-borne building towed into Portland Harbor last month was owned by the same company as
the barge near Treasure Island
, and is just as big a secret. The owner is a lightly documented Delaware corporation called
By and Large, LLC.
The lack of windows, fire escapes and foot-traffic-unfriendly design of the two structures make it unlikely either is intended as a retail store, according to Joel Egan,owner of Cargotecture, which designs buildings made from shipping containers, the Portland Press Herald reported. If the owner is Google, "it is probably a datacenter," Egan told the paper. The Portland structure was built in New London, Conn. by Turner Construction, is docked at the Rickers Wharf Marine Facility, and is scheduled for interior construction work and the installation of "undisclosed technological equipment" by local outfitter
Cianbro Corp.,
according to the Press Herald. Cianbro CEO Peter Vigue told the paper his company had signed a non-disclosure agreement with the owner of the barge, which "has made secrecy a priority."
Image: Google, Inc.