[caption id="attachment_16799" align="aligncenter" width="370"]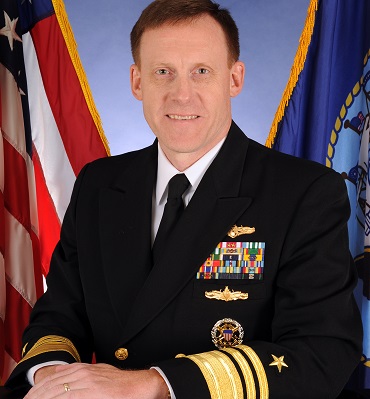 Rogers advocates a 'warrior ethos' for cyberwar among Naval network operators.[/caption] The Obama Administration will name a cryptologist and senior Navy Intelligence officer as the new director of the National Security Agency (NSA) on Jan. 31, according to an article posted this afternoon. The new NSA chief will be Vice Admiral Michael S. Rogers, "a cryptologist by training who has quietly risen to the top of naval intelligence operations," according to a
New York Times story Jan. 30
. The
Times
story attributes the information to senior administration officials. Rogers will take over the post from General Keith B. Alexander, who has led the NSA for nine years along with the Pentagon's Cyber Command since it was established four years ago. Rogers has been odds-on favorite for the job ever since news broke that Alexander would retire from both jobs March 14. Rogers not only has the cryptography background, he has all the intelligence and military experience required as well, according to an
October 2013 profile in Foreign Policy
that quotes Admiral James Stavridis, a senior Naval officer who served as NATO's Supreme Allied Commander in Europe and has known Rogers for a decade. During more than 30 years in the Navy, Rogers has worked in both cryptography and signals intelligence, helped write the Navy's strategy for "information dominance" – cyberwar – and currently runs both the Navy's signals intelligence group and its cyberwarfare unit. Rogers is "a walking resume for this job," Stavridis told Foreign Policy. Rogers, 53, grew up in Chicago and enrolled in the Navy right after graduating from Auburn University in 1981. He is commander of the Tenth Fleet, which includes the U.S. Fleet Cyber Command. His official Navy bio is
here.
Rogers' credentials as a cryptographer took time to develop. He hated math in high school and dropped calculus to avoid a failing grade while an ROTC cadet at Auburn, according to a
March 2012 profile in the Chicago Sun-Times.
He became expert with cryptology and signals intelligence on the job, picking cryptologists for sensitive posts, managing their work and the systems that helped them do it. "I'm not a computer engineer. I'm not a computer scientist. I'm not a mathematician. But I'm comfortable with it," he told the
Sun Times
. "As an officer in the military, the thing we prize first and foremost is leadership. I can lead. I can bring groups together. I can motivate people." In 2009, he was chosen over more experienced intelligence officers for the post of director of intelligence for the Joint Chiefs of Staff in the Pentagon, a job that required briefing both top military and civilian leaders in the Defense Dept. "He's just a steady hand. You never saw a ruffled feather," said retired Admiral Gary Roughead, who was the chief of naval operations when Rogers was the intelligence director, according to
Foreign Policy
. With expertise in both intelligence and cyberwar, Rogers is "uniquely qualified" for the job, according to Terry Roberts, former Naval intelligence officer who worked with Rogers in the Pentagon,
according to a Jan. 25, Washington Post story.
Rogers "is the kind of leader who will embrace the challenge of defining the optimal balance for the NSA between security, privacy and freedom in the digital age," Roberts added. In a
January, 2013 Q&A with Military Information Technology magazine,
Rogers advocated shifting the emphasis of work and support of Naval networks to focus less on deploying and operating networks and more toward infusing a "warrior ethos" among naval network operators; he also advocated policies treating networks as weapons used to defend both the physical and online components of military forces. "The network must be treated as a weapons system as we continue the fight to maintain our advantage in cyberspace, and thus across the other four war fighting domains: sea, air, land and space. Indeed, the FCC/C10F team embraces the warrior ethos, and we must provide them with the ability to fight,"
Rogers said of the Naval cyberwar groups designated FCC/C10F.
"Excellence in cyberwarfare and cybersecurity is an important part of war fighting in the future for our service and our country," Rogers continued. " We have to be as operationally ready in the cyberspace arena as we are in every other war fighting mission. Cyber readiness, like readiness in all war fighting areas, is a team effort—it takes all of our teammates across the Navy." President Obama signed off on Rogers to head the NSA in late January, after interviewing him personally – an unusual decision the
Post
story attributed to the high profile of the scandal-ridden NSA. In making the choice, Obama also rejected suggestions that the NSA and the Pentagon's Cyber Command should have different commanders. Keeping both leadership of both agencies united "as one, dual-hatted position is the most effective approach to accomplishing both agencies' missions," the
Post quoted White House spokesperson Caitlin Hayden saying in a Dec. 12, 2013 story on the issue.
Image: U.S. Navy