What's New This Quarter
Silicon Alley is always hungry for talent, and now it has a way of growing its own. A newly arrived "career accelerator" called
Startup Institute
, similar to Manhattan-based
General Assembly
, is offering classes for people who want to reinvent themselves and find a way into the tech economy. Startup Institute teaches skills such as coding and marketing and gives students the cultural know-how to get along in the startup world. Director Christina Wallace says almost 90 percent of its graduates have gotten jobs in tech startups. Students can save $1,000 if they pay upfront and get a $1,250 reimbursement if they go to work for one of Startup Institute's 16 New York "hiring partners," which get the first look at the program's graduates.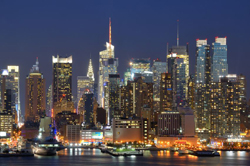 Sadly, it looks like none of those graduates will find work at Fab.com, the high-flying online design store that burned through more than $100 million of venture capital and ultimately underwent three rounds of layoffs. During the most recent round -- in November -- at least 80 employees, including the company's COO,
were shown the door
. Co-Founder Bradford Shellhammer announced he was leaving the company earlier the same week. "There will be a number of management changes as we realign the business to execute on our 2014-2017 plan," the company said. Things are looking better at food delivery service
Seamless
. Just six months after a merger with its biggest competitor,
GrubHub
, the company is positioning itself for a 2014 IPO. Financials show the combined entity's 2013 revenue at more than $200 million, with 40 percent annual growth and a potential $5 billion market cap. That's a lot of lunches.
Skills in Demand
Sixty-one percent of New York technology executives surveyed by
Robert Half Technology
said that Windows administration is among the skill sets in greatest demand within their IT departments. Network administration and desktop support followed. Recruiters also see high demand for HTML5, iOS, and Android developers, as well as Java, JavaScript, newer JavaScript frameworks, Google apps and all kinds of User Interface design. There is also demand for MySQL, HBase, Cognos, Informatica, Eloqua, Marketo, Salesforce and .NET development, along with database management, desktop support, network administration, business intelligence and security management. "Mobile is rapidly expanding and the cloud related technologies have been hot for a while now," says Adam Bilinski, New York Managing Director for recruiting firm
Randstad
. "Software developers and systems analysts will continue to be in the biggest demand, but keep an eye on project and program managers and business analysts, especially in dense urban areas, since these people need to be close to the business and more often than not are client-facing."
Salary Trends
According to TechAmerica's Cyberstates 2013 report, New York State's tech workers earned an annual average wage of $96,900 (ranked 8th among all states), 54 percent more than the state's average private sector wage. "The attraction to New York by tech companies is reflected in the growth of tech employment," said Matthew Kazmierczak, vice president of the TechAmerica Foundation and author of Cyberstates. "Tech companies, especially in the Internet field, have been attracted to New York's vibrant and creative tech hub in Silicon Alley. Of the 15 technology sectors that Cyberstates tracks, New York ranked near the top in nine of the sectors. New York's strong university system helps to support an industry that relies heavily on a highly educated and well skilled workforce." Robert Half Technology reports that 17 percent of New York-area technology executives plan to expand their IT teams in the first half of 2014, up from 12 percent in the third quarter. In addition, 69 percent plan to hire for open IT roles. In the same survey, 91 percent of New York CIOs were optimistic about their companies' prospects for growth this year, and 70 percent felt confident in their firms' investment in IT projects at the start of 2014. "We have seen an increased demand across multiple industries, but we still see intense margin pressure and even some clients who are looking to reduce costs through rate or workforce reductions," says Bilinski.
Leading Industries
Financial Services
Advertising
Media
Insurance
Telecom (specifically in New Jersey)
Local Employment and Research Resources