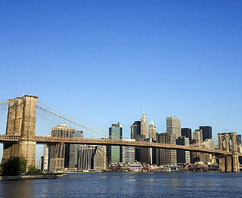 Canadian Tax Deals Pull Kaos Over the Border:
Video game developer Kaos Studios, a division of THQ Inc., is leaving New York and taking 52 jobs with it to Montreal. "The Montreal studio will take over product development and overall creative management for the Homefront franchise," a statement said. It's been reported that the company got tax breaks from the Quebec government to make the move, but spokespeople didn't address that issue.
Crain's New York (R)
Foursquare Surpasses 10 Million Users
: Location-based recommendation service Foursquare is celebrating its 10 millionth user. The company says the top brands seeing the most check ins include Old Navy, Bank of America, 7-Eleven, Home Depot and Target. The company has raised $21 million in funding and now has more than 50 employees at its New York headquarters.
The New York Times
What Cool Silicon Alley Companies Look Like
: As it turns out, downtown's hot online businesses look pretty much like you'd expect them to: earnest young coders hunched over rows of Macs in brightly lit loft buildings. A Portfolio.com slide show of some of the best known companies -- Gawker Media, Hashable, Meetup and Patch, to name some of them -- shows that dot.com 2011 looks a lot like dot.com 1998, although this time around the financial fundamentals are different. Meaning, they exist.
Portfolio.com
Flagship Apple Store Gets Makeover
: The iconic glass cube atop Apple's 5th Avenue flagship store is undergoing a complete renovation. The $6.6 million job will replace all the glass in the 32-foot cube, though Apple isn't saying exactly why the project's being done in the first place. Some speculate that larger individual panels of glass may be installed to give the cube a more ethereal appearance.
ifoAppleStore.com
Fred Wilson on Science, Art and Startups
: Fred Wilson, the godfather of the New York venture capital community, has been inspired by the phrase carved into the pediment of the Cooper Union building: "To science and art." Those are the twin pillars of innovation in the city, he says, noting that the most interesting innovation happening on the Internet today "is at the intersection of science and art." Given the track record of the man saying it, something for would be startups to take note of.
A VC Blog
Online Wine Shop Owner Talks NYC Startups
: Philip James is the founder of startup Lot18, an NYC-based online wine shop with 325,000 registered users, 75 employees and $1 million in monthly revenue. He thinks the city needs to make it easier for startups to get off the ground. "To make New York more of a tech hub, you have to get more first-time founders…There's a layer of infrastructure that does not exist enough yet. If you're 22 years old and you and your friends scrape together $10,000, there's no standard way to get incorporated. General Assembly is full, so how do you get office space? Where's the cheap accountant? That basic organizational stuff is as a barrier," he says.
Huffington Post
Where Should You Be Eating Lunch?
Where are the hot lunch spots in Silicon Alley? Assuming the borders of the tech zone are along the Broadway corridor from 12th Street to 26th Street, there are dozens of restaurants at which to see and be seen, including the humble Cambodian sandwich shop Num Pang on East 12th and perennial favorite Coffee Shop on Union Square West.
Business Insider