[caption id="attachment_10482" align="aligncenter" width="451"]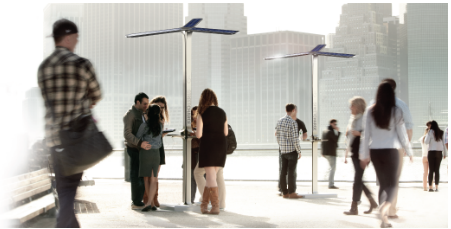 An artfully composed concept design from Goal Zero, one of the firms behind the new initiative.[/caption] When hurricane Sandy pummeled New York City last fall, it left a sizable percentage of the metropolis without electricity. Residents had trouble keeping their phones and tablets charged, and often walked across whole neighborhoods to reach zones with power. Come the next disaster, citizens could communicate a little easier thanks to 25 solar-powered charging stations going up around the city. The stations—known as "Street Charge"—are the result of a partnership between AT&T, Brooklyn design studio Pensa, and portable solar-power maker Goal Zero (with approval by the city's Parks Department). The first unit will deploy in Brooklyn's Fort Green Park on June 18, followed in short order by others in Union Square, Central Park, the Rockaways, and other locations. Each station incorporates lithium-ion batteries in addition to solar panels; charging a phone to full capacity could take as long as two hours, but the time necessary for a partial charge is much shorter. The stations' designs are modular, and can be modified for lights, advertising and other attachments.
According to The New York Times
, the total bill for the project is between $300,000 and $500,000. When Sandy hit the city, the accompanying flood surge knocked datacenters offline, taking out Websites and email servers in the process. IT workers in Lower Manhattan and elsewhere scrambled to bring systems back online; in one notable instance, employees for one company
carried buckets of fuel up flights of stairs
to keep datacenter-powering generators online. Those extreme measures helped in some instances, but huge swaths of the city remained without power for days. In order to help mitigate the storm surges that could come with the next hurricane, New York City major Michael Bloomberg has
put forward a $20 billion plan
for seawalls, levees, and dozens of other improvements. "Sandy exposed weaknesses in the city's telecommunications infrastructure—including the location of critical facilities in areas that are susceptible to flooding," reads one section of the plan's accompanying report. The city will harden the system "by increasing the accountability of telecommunications providers to invest in resiliency and by using new regulatory authority to enable rapid recovery after extreme weather events." Telecommunications hardware includes cabling, conduit infrastructure (the pipes through which cabling is threaded), cell sites (which usually sit atop buildings), and equipment within businesses and homes. Hardening all those points could present telecommunications firms with some challenges, but there's also little alternative: no matter how cool the solar-paneled chargers, there's no way those stations can accommodate the needs of a whole city—or even several large blocks—without power.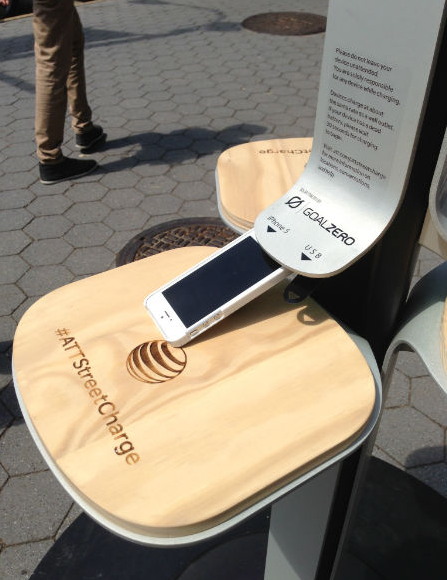 Images: Goal Zero