[caption id="attachment_12944" align="aligncenter" width="500"]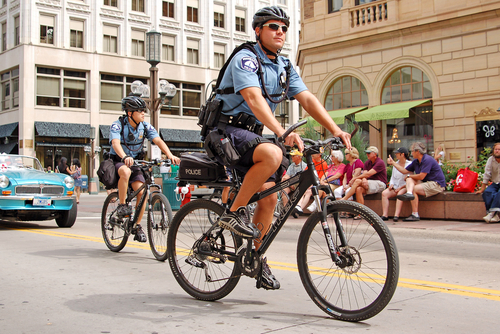 Whatcha gonna do when they come for you?[/caption] Sick of your government-appointed police force? Crowdfund your own. That's what a subset of Oakland, California residents have decided to do, via a trio of campaigns on a
crowdfounding Website named Crowdtilt
. (
Hat tip to ValleyWag
for the original links;
TechPresident
was cited as its source.) The three patrols, if adequately funded, will cover
Lower Rockridge North/West
,
Lower Rockridge South/West
, and
Lower Rockridge
"including part of the Uplands." Each campaign has a different (Facebook verified, apparently) sponsor, and wants between $20,000 and $25,000 to make the dream of private patrols a reality. Unlike Kickstarter, the Crowdtilt campaigns don't feature fabulous prizes for contributing; gifting $100, for example, won't entitle you to "One (1) free 'accidental' shooting of your choice." That aside, dozens of residents have contributed cash to the loosely allied projects. "What occurred last week at the Casual Carpool has ignited our neighborhood to act," reads one of the campaign descriptions, referring to
the broad-daylight stickup of commuters
waiting in a carpool line on Oakland's Hudson Street. "While the city and the police are doing what they can, we feel it's time for us as a community to begin exploring a wide range of ideas and taking some action on our own." Another campaign description
shared a similar sentiment
. "The crime in lower Rockridge north and west of the Rockridge BART station is completely out of hand," it read. "My neighbor two doors down was mugged walking home from BART at night. My neighbors next door were mugged midday." All three crowdfunding pages want to hire VMA Security Group for a four-month trial period through February 2014, possibly followed by a continuing contract if everything works out. That security company already patrols the Rockridge commercial district during the holiday season, and protects a number of Oakland businesses and households. While the VMA Security Group's officers are certified to carry firearms, one of the crowdfunding pages plans to ask any of them assigned to the neighborhood to remain unarmed "unless they feel they cannot accomplish their duties otherwise." "Note that private security patrol will not do more than what any concerned citizen could do by themselves," that page added, "patrolling the streets and making citizen's arrests if they see something going on." Those who enter into a contract with VMA Security Group are covered by its liability insurance. Upscale neighborhoods pay for private security all the time, of course. The question is whether crowdfunding—better known for financing things such as games and indie movies, at this point—could catch on as a way of funding residential projects. If the Oakland initiative succeeds, it could certainly open a door to other municipalities pursuing a similar path.
Image: miker/Shutterstock.com